Time for some links! Denise pointed out this amazing video of the (planned) destruction of a shoe factory in Leicester played backwards, in slow-motion, which is as odd as it sounds, but strangely hypnotic when you're also listening to the soundtrack.
Magnetic Void from James Miller on Vimeo.
Matt Jones pointed out (via @danmog) this vertigo-inducing high resolution picture of engineers fixing the antenna at the top of the Empire State building.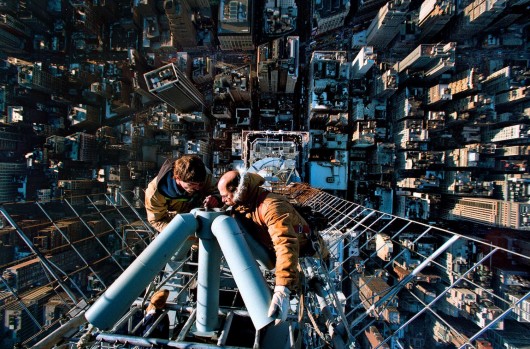 Alex Jarvis pointed out a video of a particularly scary deforestation proto-robot, the John Deere H414.
Lastly, Matt Webb pointed out Joe Hughes' post on UI explorations with a MetaWatch. As Joe says in his post:
MetaWatch is a line of hacker-friendly wristwatches that can be paired with smartphones to enable new kinds of lightweight interactions.
That's it! Have a happy weekend. It's now time to join my colleagues at the pub.