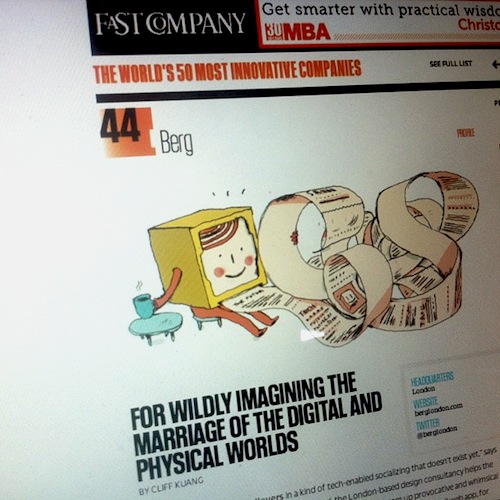 I'm super proud to see BERG at #44 in Fast Company's list of the World's 50 Most Innovative Companies.
It's an incredible list to be on! Apple, Facebook, Google and Amazon, Square and Twitter are all there — and to pick just a few of the others, Jawbone, Polyvore, and Kickstarter.
Thanks!
Little Printer gets a shout out — our product for the home that prints you a miniaturised personal newspaper, daily.
It also seems like BERG is the only design consultancy on the list. We spend 50% of our time collaborating with clients, people like Intel and the Guardian, prototyping and producing everything from cute toys that talk in augmented reality to the first magazine (and magazine platform) for the iPad.
We're currently planning our work across March and April. If you'd like to work with us, inventing and innovating, do drop me a line. The email is info@berglondon.com
In the meantime here's our profile in Fast Company's list: #44 Berg – For wildly imagining the marriage of the digital and physical worlds.
Thanks FastCo, and thanks team!