Back in 2009, BERG created Here & There — a horizonless projection of Manhattan, and a new kind of city map that let you see simultaneously where you are and where you're going. (The art prints are not currently on sale, and we're not currently planning a reprint.)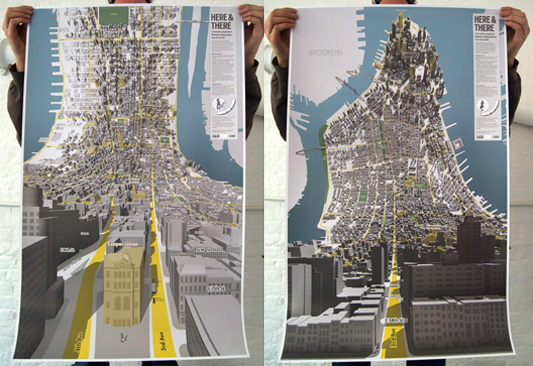 Last year, the uptown and downtown maps were included in Talk to Me, an exhibit at MoMA – the Museum of Modern Art in New York – about design, things, technology and people, alongside some incredible peers and inspirational design work. (Read about Here & There on the Talk to Me website.)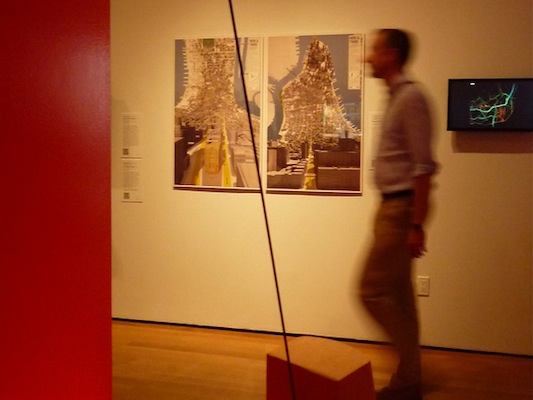 (Here & There at Talk to Me, photo by Fiona Romeo.)
Last week, our Here & There maps became the latest addition to the Museum of Modern Art's permanent collection.
I feel privileged and proud that our maps of Manhattan now have a permanent home in New York and at MoMA!
Many thanks to MoMA's Acquisition Committee, and huge congratulations to the team: Jack Schulze, James King, and Campbell Orme.
If you'd like to read more, our previous blog posts about Here & There dig into the appearances and design influences of the project.
(A thought… we've been wondering about Here & There for other cities, perhaps as public display and taking the concept in new directions. It would have to be in partnership with a brand, so if you have any ideas then do get in touch: info@berglondon.com.)