It's moving preparation week here, and the studio is dominated by a cheerfully coloured pile of packing crates, waiting for us to fill them with our accumulated possessions. This coming Tuesday, we're packing up and moving to our new space across the other side of Old Street roundabout.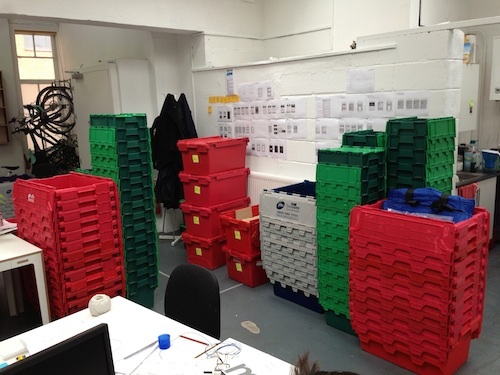 In amongst the preliminary packing and new space preparation, it's business as usual. Andy, Neil and I have been working on Kachina, and as I write this we have some filming happening in the studio, documenting the development process and surfacing the hidden layers of work that go into finished products.
Jack and Joe are continuing their discussions and prototyping around physical interfaces. Joe also flew over to Belfast and ran a short workshop with design students on the University of Ulster's MFA Multidisciplinary Design course.
Helen and Kari have been working out the studio move logistics, involving the moving company, insurance, locksmiths and all sorts, and Fraser has been working his usual magic with Little Printer customer service and outreach.
On to Little Printer. Alex and Alice have been working on the preparation and running of LP at the Design Museum for the Design of the Year 2013 exhibition. Adam has been putting the final touches to our new Push Publication API which we'll making some exciting announcements about next week. Denise has also been working hard on the future direction of LP's interface and interactions, as well as design work for Kachina.
Simon's been spinning a number of plates, including helping with Kachina and the Design Museum work, scouting the Ideal Home Show and finalising handover plans for next week. Matt Jones has been working on the Hogum workshop plan, and lastly Matt Webb has been overseeing work with the accountants, and has a meeting diary so densely populated that it's in danger of collapsing in on itself.
This was week 406!