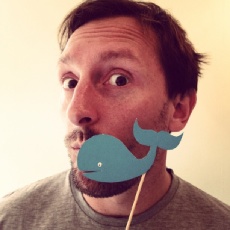 I'm very happy to announce that Adam Sven Johnson has joined us at BERG to work on Little Printer and BERG Cloud. After our successful Little Printer launch in December, this year is going to be filled with interesting challenges around building out and scaling our infrastructure. Adam brings a huge passion for the physical domain into that cloud infrastructure work.
Before joining us, Adam employed his wide-ranging skills and knowledge at Art Finder and Reevoo where he worked on both the front and back-end code. He's also the runaway winner when it comes to BERG employees with the largest number of Github repositories.
In what is rapidly becoming a tradition for new developers starting here, Adam has already shipped live code affecting every BERG Cloud user within his first two weeks. Inside that short time, he's got to grips with our codebase and unleashed his brilliantly analytical brain on a number of thorny issues that arose over the Christmas period. In fact, one of the underlying problems he discovered with MySQL was so obscure that he's soon to be writing a entire separate post on the topic.
With his feet firmly under the table, I'm delighted to be able to officially welcome him to BERG and look forward to all the exciting work we'll do together in the future.