Chris O'Shea's Body Swap is a Kinect-based installation that lets two people control "paper cut-outs" of one another. Especially fun, as the video proves, with two people of very different height – and the provision of music to encourage acting and play is a nice touch.

Photo credit: obvious_jim
Another Kinect-related link: this Flickr set shows what happens when you map depth data (from a Kinect sensor) to a traditional digital camera photograph – and then pivot and distort it in three dimensions. The above image is probably my favourite, but the whole set is worth a look – if only for the way the set progresses through increasingly distorted takes on the original photographs.
3ERD is a tumblelog of jitter-gif photographs from Matt Moore. He's using a stereoscopic compact camera (a bit like, say, the Fuji W1) to take stereoscopic images – but then turning the left and right image into a two-frame animated gif. The results are uncanny. It's hard to comprehend that both frames were taken at the same time, however simple the idea may seem; the translation of two images separated in space into two images separated by time is a strange one to wrap your head around. A little slice of bullet-time.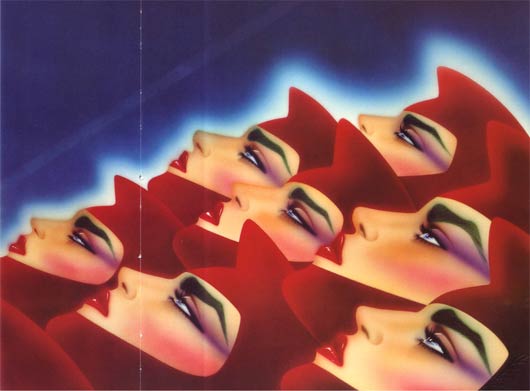 50 Watts' Space Teriyaki is a wonderful collection of Japanese futurist art and imagery from the seventies and eighties. It veers between the bleak and gynaecological; throughout, though, there's a fascinating use of colour and form.
And finally: a robot arm, repurposed into a physical feedback system for a racing computer game. It brings a whole new meaning to "force feedback".