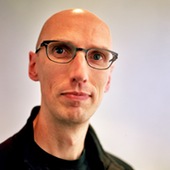 He's already received his shop coat and has teamed up with Alice to form BERG's crack cryptic crossword team, so after a good 4 months of working with us it's high time I gave our newest team member, Phil Gyford, a proper welcome post!
Phil has been an extraordinary presence in the UK web industry ever since I first got to know him back in the late 90s, and I've admired his work throughout the intervening time. He's not only a first class Creative Technologist, having designed and implemented many beautiful, innovative websites, he's also been an actor, model maker, illustrator and futurist. This diversity is rare to find in somebody who is also capable of focus and execution. His own website gyford.com is testament to his vast back catalogue.
For me one of the most valuable things Phil brings into the team is an incredible attention to detail. You only have to look at his recent work on our Github account to see that in full effect. When creating the relatively straight forward Little Printer Miniseries engine in PHP Phil's written over 3000 words of documentation and examples as well as fully commented code. This is great in and of itself, but the fact that it immediately opened up Little Printer to people who'd previously considered it out of their reach proves how powerful great documentation can be.
As BERG Cloud grows in terms of capability and features, demonstrating and communicating these becomes ever more important and Phil's going to be key in making that happen.