Just discussing the fact we're a Mattless office for the day (they're both in NY). It's not something that happens often, and so to soothe this slight unease, it feels fitting that we start Friday links with a BBC archive of the Moon landings, from Matt Webb. It has "lots of telly clips from the past 42 years", including interviews, episodes of Panorama and a very young looking Patrick Moore, hosting The Sky at Night.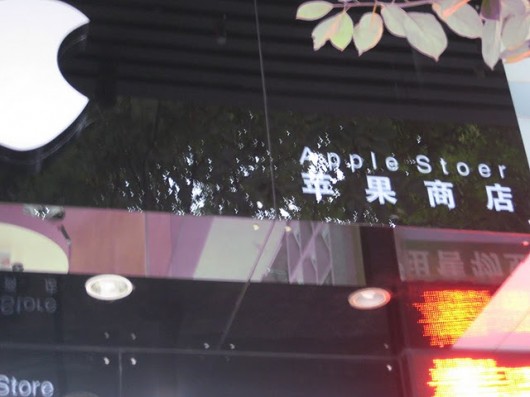 You might well have seen this by now, as it's been quite widely discussed online, but Andy sent around this post on fake Chinese Apple stores earlier this week, titled 'Are you listening, Steve Jobs?' It's quite extraordinary – and a little bit 'uncanny valley', if it's possible to use that in this context. It's almost right, but you can sense something's up.
We had a bit of discussion about the Window to the World concept, from Toyota, a link discovered via @antimega. In the end we got slightly sidetracked by the comments. The fury at the child's parents for not buckling her into a seatbelt, and the wrath of others for bringing that up. Feel free to dream about the future, but make sure you sweat the details.
James and Nick discussed Tubetap, an app that enables you to apply for a refund from Transport for London at the tap of a button – or several buttons. And on that note, Fix My Transport from MySociety is in beta testing at the moment – but for commuters like me, on multiple forms of public transport – looks like it could be great. (Also, it has the best tagline ever.)
Nick also found a bunch of Little Fellas over on Craftzine. You can't always spot them in the wild, so why not make one?. I'd like to see them applied to the LittleDog Robot mentioned last week.