Talk to Me, MoMA's new exhibition about design and the communication between people and objects opened this week at the Museum of Modern Art in NYC. We're very proud to be a part of a show that pulls together so many potent strands of contemporary design:
New branches of design practice have emerged in the past decades that combine design's old-fashioned preoccupations—with form, function, and meaning—with a focus on the exchange of information and even emotion. Talk to Me explores this new terrain, featuring a variety of designs that enhance communicative possibilities and embody a new balance between technology and people, bringing technological breakthroughs up or down to a comfortable, understandable human scale.
There is an enormous amount of work that we value and admire across the exhibition. A range of games from the experimental Passage, Chromaroma and Sharkrunners to Little Big Planet, SimCity and Spore. It's great to see Usman Haque's Pachube alongside other sensor networks and platforms such as Homesense and Botanicalls.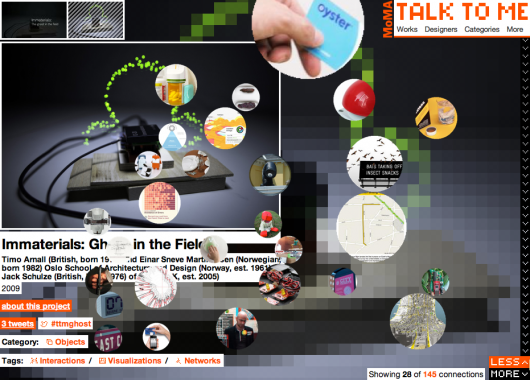 There are physical interactive products such as David Rose's ever-impressive connected medicine container Glowcaps, the exquisitely crafted musical interfaces Monome and Tenori-on, the empowering iOS payment interface Square and the characterful and playful Tengu, alongside popular apps like Talking Carl and Wordlens.
There's a wide range of mapping work, from the early and potent They Rule to Prettymaps, Legible London, Ushahidi and Walking Papers. And there is plenty of work that defies classification such as Camille Scherrer's The Haunted Book, Kacie Kinzer's wonderfully simple and affective social Tweenbots and Keiichi Matsuda's Augmented (hyper) Reality.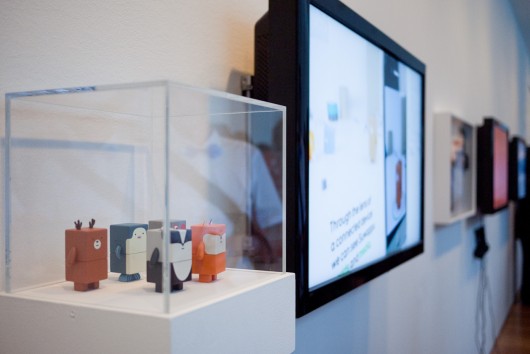 BERG has seven works in the show. The bendy maps Here and There, the interactive exploration of scale BBC Dimensions, the films made with the Touch project exploring the qualities of touch and RFID: Nearness and Immaterials: Ghost in the Field, our collaborations with Dentsu London on Media Surfaces: Incidental Media, The Journey and the augmented toys Suwappu.
For such a broad exhibition it is great to see all of the works curated and presented with such thought and attention to the quality of each piece.
The exhibition takes place in the MoMA Special Exhibitions Gallery, from 24 July until 7 November 2011. Thanks to Paola Antonelli and the Talk to Me team for the excellent and patient work in putting this all together.