Blog posts tagged as 'weeknotes'
A prime, the sum of 3 consecutive primes, and the number of seats in the Swedish Parliament it would seem.
Retrospective (and rather list-like) week notes this week, and what a week! Not least, there have been 3 babies born, safely and I'm sure soundly. Hooray!
In the studio it's been busy as usual. Simon's been out and about wrapping up a project for Uinta. Matthew's been juggling a mix of sales and interviews around Little Printer.
Nick has been doing a marvellous job traversing the full height of the Little Printer/Berg Cloud stack, and moving house, to top it all.
Joe, Alex and Denise have also been working on a part of the Uinta wrap up (called LaMotte) while cracking on apace with the comms surrounding another project (called Kletting).
James and Alice have been licking the cloud-side bits of Berg Cloud into shape. Some significant heavy lifting going on.
Denise is continuing to refine information architectures and feeding into Kletting, whilst joining Alex, Simon and myself for some Little Printer packaging design. Good stuff.
Timo was away for the start of the week, but back in time to launch our next BERG event at St. Bride's on March the 21st, and in time to see it sell out!
We've just had another cracking Friday demos, with a special guest appearance from Matt Biddulph, who's here for 2 weeks. Lovely.
Things are moving apace. We've just had cake to celebrate Matthew's birthday. It's drive-time.
That was week 349.
It's week 348 and it's really cold outside. There's nothing very poetic to write about this week. It's that time of year where everyone just works. We work and we do our chores. A quiet, sombre, productive time. I may be boring, but my bedroom is tidy. These are the things we are working on.
Webb, Jones and Timo are working on some sales. There is a Uinta project which doesn't have a name yet, which Joe, Alex and Denise are working on. Me, Alice and Nick and working on Berg Cloud's cloud. Andy is celebrating the end of Chinese New Year by talking power supplies. Timo and Jack are working on filming something.
There is temporarily no Simon, and Kari is away on Maternity leave now. Helen is therefore now in full time mode. There has been no hiccough in the transfer.
Everyone is working on many more things than mentioned here. You probably have a list like it. This is what the first week of February feels like.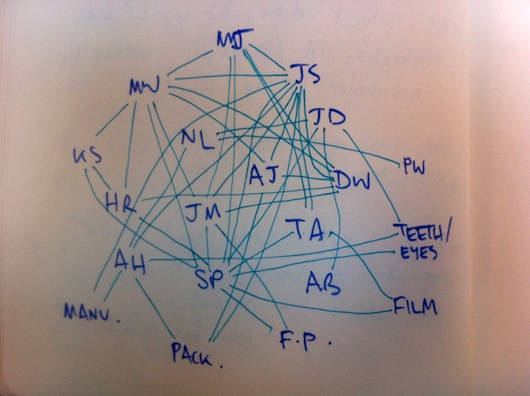 I think this is roughly who's working with who.
This week is mainly: a Uinta workshop, Little Printer progressing, Kari's final day before maternity leave and Helen's first full day, sales sales sales.
The new studio is bigger,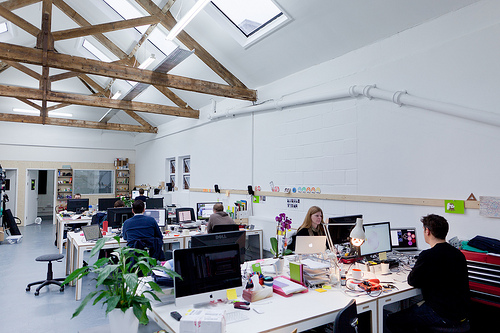 and (I noticed when I got back from travelling in the US for most of January) weirdly quiet. It's as if people don't know what to do in all the space. Then when one person goes into the kitchen – the kitchen is teeny weeny, the size of a broom cupboard – two or three more people pile in and there's a kitchen party. In the last couple of weeks it's been getting gradually noisier as we settle in. A welcome improvement.
Nick's gone out to get a few coffees. Good-o. Caffeine please!
Friday links for week 346, a few things that have been zipping around our mailing list for the last 5 days. I'm keeping it image heavy this week.
Jones sent around the slightly terrifying 'math blind AI that teaches itself basic number sense'. He also pointed out this article from Don Norman on AI:
The point is that AI is now powerful enough to be commonplace. Not only does it assist in such mundane tasks as restaurant selection, but it helps out in critical safety situations such as military applications, the control of industrial equipment, and driving.
Timo found this discussion on the ethnography of robots.
After reading the Steve Jobs biography this came as no shock, but this post on Apple's attention to detail with packaging is a good read, and something we're going to be obsessing over as a studio in the coming months.
There was also a lot of discussion over Ubuntu's new interface, dismissing menu bars for a launcher style UI:
In our continuing quest to invent a reason to buy a quadcopter to fly around the beams of our new office ceiling all day, Alice sent around this clip of an autonomous flying tracking robot:
We've had a lot of incredible pictures of the solar storm flying around. This is a good one: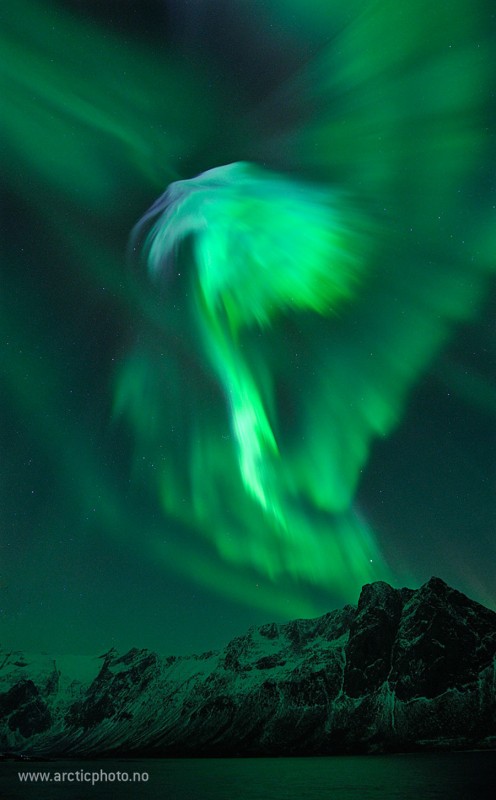 This is another good one: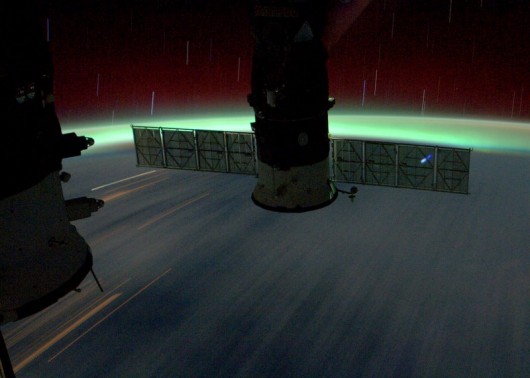 And on a similar note this timelapse video of the Yosemite National Park is worth a watch.
Yosemite HD from Project Yosemite on Vimeo.
Via Tom Armitage we found this knitted waveform scarf of the amen break by Andrew Salomone: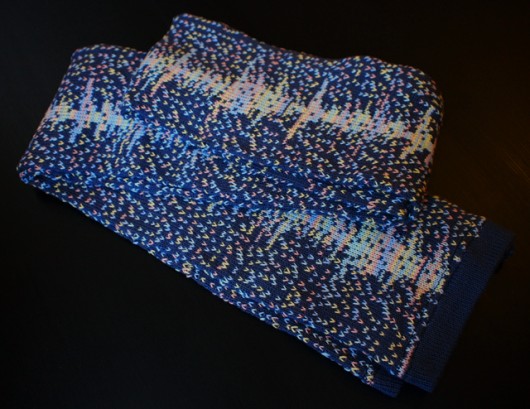 Which also revealed the 'Recursive Cosby Jumper':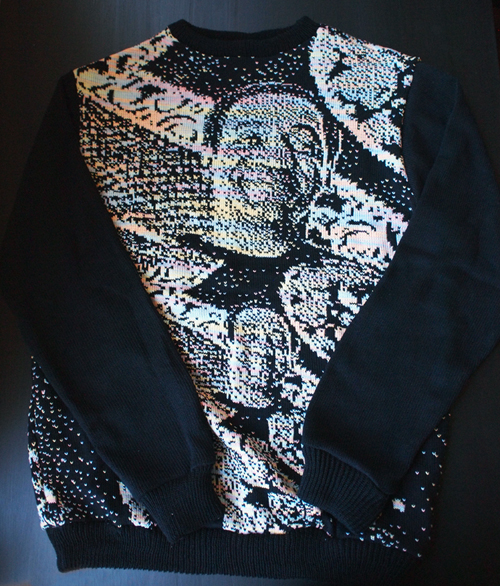 And the 'Bitmap balaclava':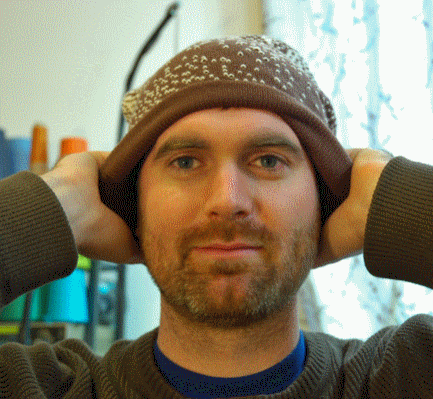 That's it for this week. Here's a picture of a tiny smiling pig. Enjoy your weekends.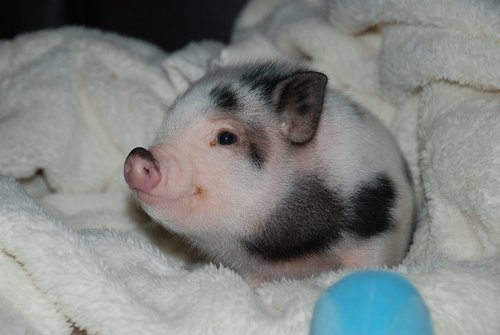 A good plane based number this week. The DFS 346 was a German rocket powered swept wing aeroplane, completed and flown in the Soviet Union after World War II. The Alenia Aermacchi M-346 Master is a military transonic trainer aircraft, based on the Yak-130. I'll pretend you all knew that anyway though.
Our fearless leader Matt Webb has returned from 3 weeks in the US, with considerable jetlag, and tales from CES. He's been taking Little Printer on a whistlestop tour all over the country, so will be unpacking meetings this week when his head is back on UK time.
Simon's doing his usual incredible balancing act between making sure our client work is running smoothly, keeping all aspects of Little Printer and BERG Cloud on track, and managing the last few bits of new office sorting out. He's also sorting through job applications (there's still time to apply if you're interested, we're closing applications this coming Friday the 27th). It's Kari's last full week in the studio before she heads off on maternity leave, so she's training Helen up on the last handful of bits. We'll miss her!
The majority of the office are still pressing ahead with all aspects of Little Printer and BERG Cloud. Andy and Jack are working on the hardware and the industrial design. I've been doing a bit of design work for the shell, and working on the sales and out of box experience for when we launch. Andy's sitting at his new soldering desk with a load of new circuit boards. Alice did tell me what she was working on, but all I wrote down next to her name was 'moving'. Based on what she's shown us at Friday demos for the last couple of weeks though, it's pretty mind boggling and very exciting. James is similarly working on different but again very exciting backend stuff for Little Printer, as well as working on the IA for the mobile website with Denise, who displayed an impressively vast Illustrator document on Friday covered in wireframes. She's also manning the BERG Cloud CS desk with Simon and Kari. Nick and Phil are as always working on the real backbone of the entire system, with a lot of brief writing and organisation of meetings.
Joe is putting the final touches to his Uinta work which is looking and sounding brilliant. Both him and Jones were in the recording studio yesterday.
Jack is mostly on the industrial design and manufacturing of Little Printer, but is also having a few catchups with Webb and Jones, and working with Timo on the final stretch of a bit of Uinta work. Timo's doing a little bit of filming, a little bit of editing, and is also talking at the Design of Understanding this Friday. Matt Jones is on some Uinta project work, a few sales meetings, and is getting his hair cut tomorrow.
That's pretty much it for week 346, fuelled by the 1.125kg of Haribo we've consumed as an office in under 2 days, and with the soundtrack of Pinch's Fabriclive 61 mix, which I entirely recommend.
Week 345 is upon us, and progressing nicely. In number theory, '345' is a sphenic number, but I would imagine you know that already. On to things you might not know; what's going on in the studio.
We're almost fully settled into the new space. There's a bit more painting to be done, some insulation to be pumped into the roof and a large delivery of teabags on order. We've worked out most of the major issues – like where to go for lunch, but it has to be said, certain BERGians are missing the coffee hut. I've yet to see anyone come back with coffee and look happy about it.
Matthew is still in the USA, where he's been since the beginning of the year, he should be back soon. Jack is not 100% well, and so has been in and out of the office, trying not to infect us all. When he's not in quarantine he's working on the physical aspects of Little Printer with Andy. This involves mechanics and graphics, a mix we're rather enjoying.
James is back in the office for the first time this year. He's working on some behind the scenes Little Printer tech with Alice. Nick and Phil are working on a bit of refactoring too, but both of them seem rather cheerful about it. Alex and I are also working on Little Printer – a mix of things from packaging ideas, to IA. I'm also trying to keep on top of the feedback we've been receiving (there's been a lot of it, and people have been lovely, thank you).
Joe and Timo have both been working on two separate projects for Uinta.. The end is in sight for the work Joe has been doing – and it's looking beautiful. It requires some voice over work from Jones, which should be entertaining. Timo is working on editing, directing and interviewing for the film he's making. We saw some work in progress last week and it's everything we were hoping for – magic included.
Kari has been helping to get Helen all settled in. She's also been battling with studio and finance admin. Simon has been here there and every where, organising the last bits of the studio, getting the timesheets in for last year (no, pressure, Nick) and sorting through job applications.
And I think that's it.
Factoid of the week: the year 344 was a leap year starting on a Sunday. As is 2012. How about that.
Week 344 in the BERG studio has a lot of to-ing and fro-ing. Joe rejoined the studio (back from the US trip with Jones & Webb) on Tuesday. Jones stayed in the US for a couple of extra days but has just arrived back in the studio, straight from the airport. What can I say, he is hardcore. Webb was at CES in Las Vegas yesterday (we can't wait to get his report) and continues his US mini-tour in San Francisco today. James Darling is still on a tropical beach somewhere. Other BERG folk have been out to see GPs and osteos, track down packages, run various errands, etc. At the same time, we've had a number of visits from clients/partners and also have several contractors spending time in the studio this week. So it's still felt like the busy, buzzing hub that it usually is.
Let me say a quick word about two people who have been mentioned in passing in previous weeknotes without much other explanation as to who they are. Phil Wright is a contractor who has been helping us out with the development of Little Printer since April of last year. He spends most days in the studio and has his own desk and everything, so although he remains on contract status, he feels like part of the regular BERG team. Helen Rogers joined us for two afternoons a week at the beginning of December to start training to take over for me as our Studio Manager when I go on maternity leave at the beginning of February. From this week she's up to four afternoons a week, and from the start of February, she'll be four full days a week. It's been a treat to work with her thus far as she is super clever and catches onto everything so quickly. It's nice knowing that the studio will be in very competent hands when I step away in a few weeks. Watch for more info about her to show up in the Studio section of the website soon!
As for the rest of the BERGians, this week Simon is doing some rounding off of project costs for 2011 and looking at capacity planning for 2012, leading some workshops on the continued development and future of Little Printer, coordinating various bits of Uinta projects that we have on the go, and working through the final issues that still need to be resolved in the new studio. In case you missed it, he also posted adverts for two new positions that we're looking to hire for. If you're interested in working for BERG, please do have a look to see if either of those describes you!
Nick has been working on the technical architecture for BERG Cloud, thinking about chips and font rendering for Little Printer and doing some work on the Suwappu app.
Joe has been catching up on what he missed being out for a week and getting his feet back under him. He's mainly working on integrating animation in a couple of Uinta projects.
Denise is still very generously handling most of the enquiries that come in about BERG Cloud and Little Printer. She's also continuing work on the UI and IA for the internet side of Little Printer.
Alex has the fun job of developing the brief for the Little Printer packaging and unboxing experience. He's still doing some work on Uinta this week and is also helping to make the new studio a happier, more accommodating place with a functional doorbell and signage.
Alice is also involved in the font rendering work for Little Printer and is doing some early stage investigative work into dev tools for people who want to create their own publications for Little Printer.
Timo is working on a Uinta animation brief and is also doing some shooting for a 90 second test pilot. I'm sure more will be revealed about that in good time, but it's potentially pretty exciting.
Andy is making good use of our CitySpring courier account, sending various components hither and yon. He's also having conversations about what should be printed on the back of Little Printer. I suppose most people don't really think too much about the copy on the back of their electronics, but it turns out it's pretty important.
As for me, I have been doing all the usual financial admin, trying to wrap up some last bits of business around moving studio, ordering office supplies, handling all the general (i.e. non-Little Printer or BERG Cloud) enquiries that come in to the studio, etc. Today I get to teach Helen how to run the quarterly VAT return. (Exciting stuff, eh?) And I've been getting kicked in the ribs (from the inside) pretty much the whole time I've been typing this. Maybe that second cup of tea wasn't such a great idea after all…
Happy new year! So what is BERG up to at the moment? Well for the most part it feels like we're awakening from a deep slumber, and there's been a lot of blinking, yawning, stretching and replenishment of caffeine levels.
We've been busy unpacking the remaining crates from the Big Office Move of December. Schulze unearthed some unfamiliar output from early studio work that predates many of us. The terseness of the summary page does not do justice to the splendour of the tools it spawned. Schulze is also deep in project work for Uinta, Chaco, and our very own Little Printer.
Denise has been doing a fantastic job fielding the enquiries about Little Printer and BERG Cloud, and is also driving a lot of design thinking around Little Printer as it comes more sharply into focus.
Andy has been unpacking and setting up the workshop area of our new space, and is also working on various aspects of the physical form of Little Printer. The rest of us have been enjoying Andy and Jack's ongoing argument over what needs to be thrown away, and what is actually valuable enough to earn precious shelf space.
Alex is wrapping up Uinta work, working on designs for our studio stationary, and writing briefs for product packaging design. He's also managed to set up a studio speaker system which in all likelihood will cause serious structural failure if anyone were to turn the volume up to 10.
Kari has been catching up on studio admin and finance tasks, answering studio queries, and keeping on top of Zendesk tickets. At the end of this month she's going to head off for some much deserved maternity leave.
Alice has been taking care of address and content updates to our various websites, and is now engaged in some code sketching of Little Printer developer tools. She's been wonderfully scathing of our local coffeeshop's customer service.
Phil is porting some embedded code in advance of vendor meetings happening next week, in addition to helping me set up our Little Printer development bench.
Timo rejoined us on Wednesday and is working his magic on a timeline full of exciting footage that was shot last month. He's also got his VFX Supervisor hat on, and is overseeing some effects work for his Uinta video work.
There are a few notable absentees this week. Webb, Jones and Malia are together in the US and are gradually going to be reabsorbed into the fold over the course of this month. Our last missing person is James Darling, currently in India and rejoining us later this month.
Lastly, I've been doing relatively mundane things like making sure our office network is working properly and remembering how to write in whole sentences. This concludes the very delayed summary of week 343!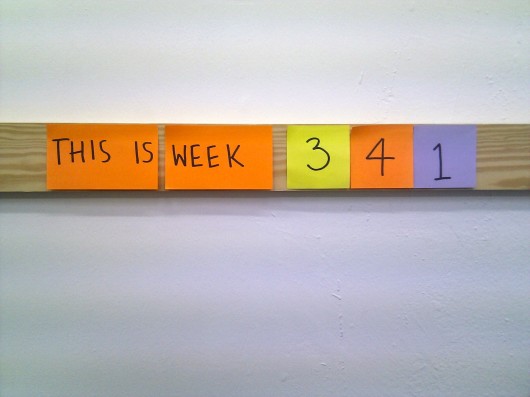 We have moved office. Joe, Alex, James, Timo, and Nick are on holiday this week. Kari, Denise, Andy, Jones and I are taking holiday for some of the week.
Our new office is so big that all-hands now requires people to move to the same space, acting under an unspoken consensus about where that should be. In our old space I could participate in a conversation with anyone without having to move at all.
As I started taking notes for weeknotes, the tiny human that Kari is currently carrying started kicking her in the ribs. Maybe he wanted to be included in weeknotes too.
There is a list of snags for the new space on the whiteboard. It includes things like "EXTRA COAT OF PAINT ON FOOD AREA PROJECTION WALL" and "LIGHT SW. MEETING ROOM SWITCH DOWN TO TURN ON (REVERSE STATE)". Simon is managing the snags list this week, along with his usual schtick of chivvying projects and people. Andy is putting up lights and hanging shelves, as well as tidying up the old space and returning keys. He has also taken to bringing bacon sandwiches from the Shepherdess for people who want them, which we're all very pleased about.
Matt Jones is finishing some work for Uinta. Kari is showing Berg 9 to people who might want to make it their own. She is also training Helen, pushing various bits of accounting admin, and doing something that I have written down only as 'printers'. This could mean anything, really, do I mean SVK printers? Little Printers? the office printers? I should have taken better notes.
Jack is working on the industrial design for Little Printer this week. He has a seemingly bottomless collection of tops in subdued colours with zips, and today he has brought out a grey knit one that I have not seen before.
Matt Webb is fighting off a sickness that he caught from an Australian and taking Jack out for cake.
Week 341 then, Merry Christmas.