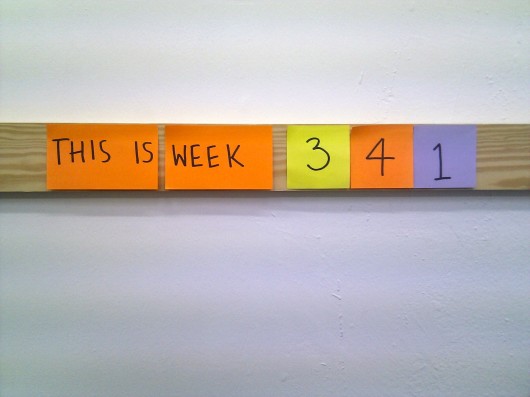 We have moved office. Joe, Alex, James, Timo, and Nick are on holiday this week. Kari, Denise, Andy, Jones and I are taking holiday for some of the week.
Our new office is so big that all-hands now requires people to move to the same space, acting under an unspoken consensus about where that should be. In our old space I could participate in a conversation with anyone without having to move at all.
As I started taking notes for weeknotes, the tiny human that Kari is currently carrying started kicking her in the ribs. Maybe he wanted to be included in weeknotes too.
There is a list of snags for the new space on the whiteboard. It includes things like "EXTRA COAT OF PAINT ON FOOD AREA PROJECTION WALL" and "LIGHT SW. MEETING ROOM SWITCH DOWN TO TURN ON (REVERSE STATE)". Simon is managing the snags list this week, along with his usual schtick of chivvying projects and people. Andy is putting up lights and hanging shelves, as well as tidying up the old space and returning keys. He has also taken to bringing bacon sandwiches from the Shepherdess for people who want them, which we're all very pleased about.
Matt Jones is finishing some work for Uinta. Kari is showing Berg 9 to people who might want to make it their own. She is also training Helen, pushing various bits of accounting admin, and doing something that I have written down only as 'printers'. This could mean anything, really, do I mean SVK printers? Little Printers? the office printers? I should have taken better notes.
Jack is working on the industrial design for Little Printer this week. He has a seemingly bottomless collection of tops in subdued colours with zips, and today he has brought out a grey knit one that I have not seen before.
Matt Webb is fighting off a sickness that he caught from an Australian and taking Jack out for cake.
Week 341 then, Merry Christmas.