It's 4:55pm on Wednesday, and this is my most frequent type of view on Week 353 – the week calendar. Most of what we're up to is here. With all the minutiae removed, I wonder if it's possible to guess who is who?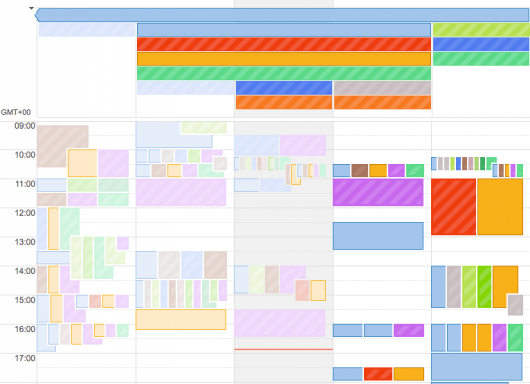 It just so happens that a number of client projects have recently finished or are wrapping up at the moment, at much the same time, and several new ones are kicking off. The processes around getting everything in place to start & finish are numerous and I'm running through my checklists to make sure everything is set up correctly. Helen's been doing similar, arranging travel and keeping the finances in check.
Matt Jones, Timo and Joe are all involved in a kick-off workshop for Silverton this week and our clients are here with us. Today we can just about hear animated conversation coming from our meeting room. It's the first time we've run a workshop in our new studio space, which we've well and truly settled into now. Matt Webb has been involved in this a bit too, alongside writing proposals for upcoming projects, making decisions about Little Printer and bringing delicious curry to the studio for lunch.
Alex has been furthering the packaging design for Little Printer, as well as producing assets for the next iteration of the remote site ready to be built. He's also going to be leading a new project, Chuska, in the coming weeks with Alice and James, who are also working on publications and infrastructure for Little Printer and BERG Cloud. They've also been out and about filming with Timo for Lamotte, and making toast at 5pm, which makes the whole studio a bit peckish.
Denise has been drawing owls and foxes for Lamotte (for Timo, who will be making them fly) and generally steering the design and content of Little Printer.
When Andy isn't strong-arming the studio into drinking coffee or eating doughnuts, he's overseeing the tooling and production of the various parts that go into the physical Little Printer, tweaking electronics, ordering parts and lining up all the hoops we'll be jumping through en-route to announcing pre-orders. He's also been shouting numbers and letters that I don't fully understand across the studio to Nick who's been working fervently on immediate tweaks to the lower-level software on Little Printer, and working with Phil on the remaining functionality we want to implement.
Jack and Kari are both missed, although occasionally pictures of tiny humans who look a little like them are sent around the studio.
Last but not least, please let it be known that the number 353 is a double sexy prime – that is, the numbers which are six away on either side (347 and 359) are also primes. Ooh-err.