These weeknotes are coming live from somewhere between Gatwick Airport and Haywards Heath, travelling at about 37mph. Joe and I are on our way to see Future Platforms who are doing some development work with us, and our fortnightly review and planning meetings are quite animated.
340 is the number of words that Betsy the Border Collie from Austria can understand. James Darling has hitch-hiked along the A340 near Aldermaston in Berkshire.
At the end of this week we are migrating to our new studio space. Co-ordinating the move of thirteen people from two locations in short time has been a bit of a challenge, and has involved much hard work from people with larger muscles than I. Here's a little teaser of how our new space looks and how it's changed over the last two weeks.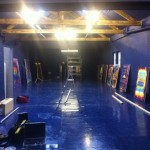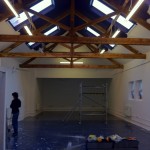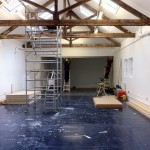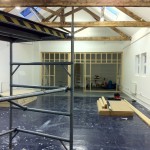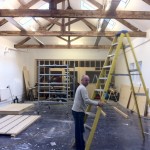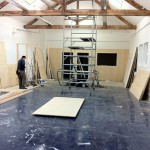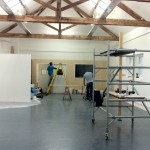 In the midst of packing up, we are still very busy on all projects. Timo, Alex and Matt Jones have been moving around Shoreditch by night filming for Uinta, stopping occasionally to watch footage and talk excitedly about what to shoot next over pizza and cola.
Work on Little Printer and BERG Cloud continues on many fronts. James D, Andy, Denise, Alice and Nick are variously looking at IA, infrastructure, manufacture plans, communications, whilst keeping up with the queries and comments we've been receiving via bergcloud.com, which have been super. They've have been keeping me, Matt W, increasingly-pregnant Kari and Denise busy in particular. If we haven't quite got to your email yet we apologise, we're doing our very best!
In January, Matt W (who you can hear on yesterday's Radio Roundabout) will be clocking up at least 13,090 miles in the air en-route to a Uinta workshop, before dropping in on CES and meeting people to talk about Little Printer across the US. His itinerary is here if you'd like to catch him. Matt J and Joe will be attending at least the first part of this adventure.
This is a mere fly-by of what we're up to, as usual, but I must now disappear to pack more things into crates.
Tonight, we are having a traditional Christmas dinner and a thimble of sherry to celebrate a year of good work (which I've been lucky enough to be part of for the past 7 months or so). I've been informed Matt Jones is bringing party games and Joe Malia may do a dance. I'm bracing myself.