It's my turn on the blog rota this week, and so it's my turn to let everyone know of interesting things that have been floating around the office mailing list.
I really liked this old video explaining how differential gearing works.
Nick found this – the result of someone taking Deutsche Telecom to court to gain access to 6 months worth of mobile phone usage data.
Andy sent us this video of juggling Quadrocopters:
And we also liked this Quadrocopter combined with a Kinect sensor.
Jones sent around this series of photos from BBC4 documentary 'Around the World in 60 minutes'. As the Space Shuttle Atlantis nears the ISS, hexagonal lens flares appears on the screen. Superb.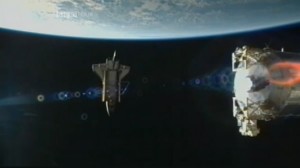 Finally, Matt Brown sent this video of the original animation references from Prince of Persia.