Schooloscope is a new project from BERG, and I want to show it to you.
What if a school could speak to you, and tell you how it's doing? "I have happy kids," it might say. "Their exams results are great."
Schools in England are inspected by a body called Ofsted. Their reports are detailed and fair — Ofsted is not run by the government of the day, but directly by Parliament. And kids in schools are tracked by the government department DCSF. They publish everything from exam results to statistical measurements of improvement over the school careers of the pupils.
Cooooomplicated.
What Schooloscope does is tell you how your school's doing at a glance.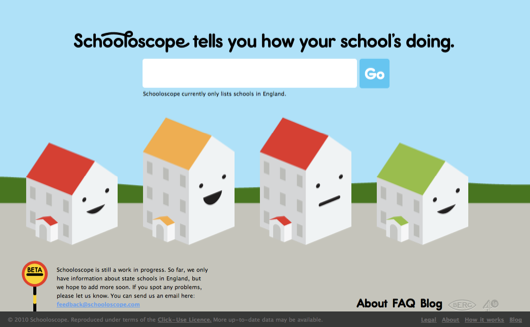 There are pictures of smiling schools. Or unhappy ones, if the kids there aren't happy.
Each school summarises the statistics in straightforward, natural English. There are well over 20,000 state schools in England that we do this for. We got a computer to do the work. A journalism robot.
You can click through and read the actual stats afterwards, if you want.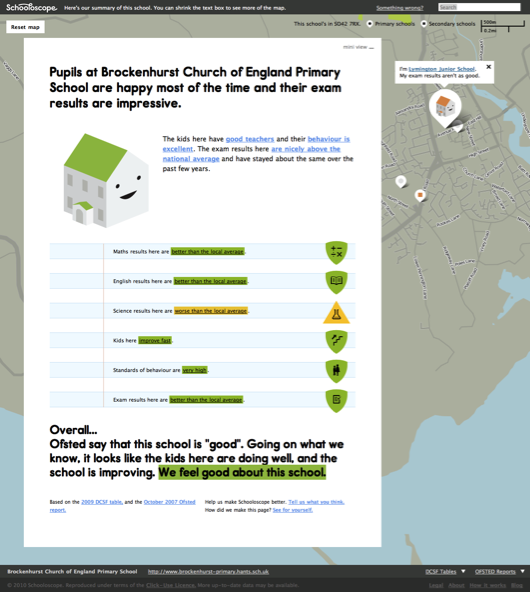 Why?
A little of my personal politics. Education is important. And every school is a community of teachers, kids, parents, governors and government. The most important thing in a community is to take part on an equal footing and with positive feeling. Parents have to feel engaged with the education of their children.
As great as the government data is, it can be arcane. It looks like homework. It's full of jargon… and worse, words that look like English but that are also jargon.
Schooloscope attempts to bring simplicity, familiarity, and meaning to government education data, for every parent in England.
A tall order!
This is a work in progress. There are lots of obvious missing features. Like: finding schools should be easier! There are bugs. There's a whole bunch we want to do with the site, some serious and some silly. And full disclosure here: over the next 6 months we're working on developing and commercialising this. Schooloscope is a BERG project funded by 4iP, the Channel 4 innovation fund. Is it possible to make money by being happily hopeful about very serious things and visualising information with smiling faces? I reckon so.
Anyway. The way we learn more is by taking Schooloscope public, seeing what happens, and making stuff.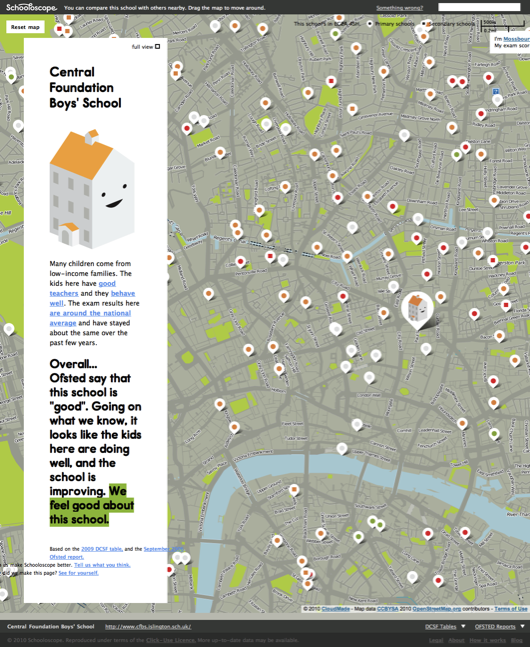 The team! Tom Armitage and Matt Brown have worked super hard and made a beautiful thing which is only at the start of its journey. They, Matt Jones and Kari Stewart are taking it into the future. Also Giles Turnbull, Georgina Voss, and Ben Griffiths have their fingerprints all over this. Tom Loosemore and Dan Heaf at 4iP, thanks! And everyone else who has given feedback along the way.
Right, that's launch out of the way! Let's get on with the job of making better schools and a better Schooloscope.