The last couple of days of hot, sunny weather in London have got me thinking about holidays and doing so put me in mind of Ben Goldacre's crowd-sourced collection of Nerdy Day Trips. As Ben says,
I am a very big fan of nerdy day trips, from Sea Forts to abandoned nuclear bunkers,dead victorian racecourses, roads that are falling into the ground, narrow gauge railwaysthat take you to a power station, wherever. I like decaying infrastructure, terrifying modernity, and enthusiast-run museums with 6 pages of small-font text explaining every exhibit (looking at you, Bletchley Park).
So he started collecting them on a map and asking anyone with a suggestion not yet on the map to add it. There are a few obvious ones here like Down House, former home of Charles Darwin, and the Greenwich Royal Observatory. But I reckon most of these are places that only locals would have heard of – and some of them may well only be known to locals who live within half a mile or less. (Case in point: I reeled off a list of about a dozen spots from around the country to a group of my colleagues – all of whom grew up in the UK – and only one person had heard of one of them.)
Here's a sampling of places you will find on the map, places which will almost certainly appeal to any person with nerdy proclivities and quite possibly to non-nerds as well.
Cresswell Crags in Nottinghamshire – the earliest British cave art, some of it dating back nearly 13,000 years ago.
Flag Fen Archaeology Park in Peterborough – see a 3,500 year old perfectly preserved Celtic wooden monument and explore a reconstructed Bronze Age village.
The Seaford Museum in Martello Tower no. 74, East Sussex – the museum contains, among other things, "collections of domestic appliances covering the first half of the 20th century, office machinery from early typewriters and copiers to computers and a particularly large collection of radios and television sets."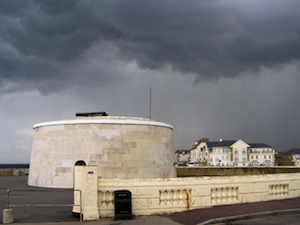 Cragside in Northumberland – country home of Victorian inventor Lord Armstrong and the first house in the world to be powered by hydro-electricity. The house is full of gadgets, and there's a huge adventure playground for the kids.
The Electric Brae in Ayrshire, Scotland – a mysterious place where cars roll uphill!
The Ossuary at St Leonard's Church in Hythe, Kent – 2,000 skulls and 8,000 long bones, all nicely piled in the crypt.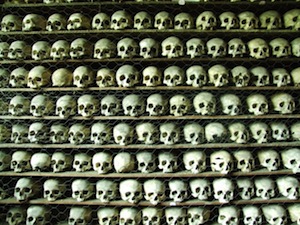 The Williamson Tunnels Heritage Centre in Liverpool – an labyrinth of tunnels built by eccentric philanthropist Joseph Williamson during the first half of the 19th century.
The Needles Battery on the Isle of Wight – built in the last half of the 19th century as a defence against an invasion by France.
The Birr Castle Telescope in Co Offaly, Ireland – the largest telescope in the world when it was built by the Third Earl of Rosse in the 1840s, where the spiral nature of galaxies was first discovered.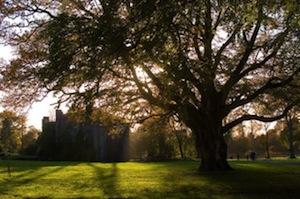 Have a look at the map on Ben's site to find places closer to you (at least if you're in the UK or Ireland) and if you know of any other "nerdy day trip" destinations that aren't included yet, add them yourself!