Jack and I taught a short class at SVA's Interaction Design MFA this July.
We'd visited previously for a week in the Spring, and Liz Danzico was kind enough to invite us as part of their Summer School programme.
The two days started with thinking-through-drawing exercises we like to call "Hopeful Monsters" based around an exercise we've described on the blog before, and other drawing activities around generating 'Inbreds and Hybrids' that we were introduced to by our friend Matt Ward from Goldmsith's Design faculty.
Initial thinking and brainstorming about cheap, ubiquitous, mundane technologies leads to fantastic leaps as the particpants draw on the whiteboard.
As always there are dead ends and flights of fancy – but, as always – there are a couple of intriguing combinations and mutant products that have an itchy promise to them…
The mutating, morphing quality of drawing our hopeful monster objects on the whiteboard…
Always contrasts interestingly with the more procedural, mechanical evolutionary drawing produced by tables of post-it-pixels…
On the second day, we deployed our secret weapon!
We were lucky enough to have Durrell Bishop of the mighty Luckybite join us, and set us all an incredible brief for the day – design a mouse trap, and a ghost trap…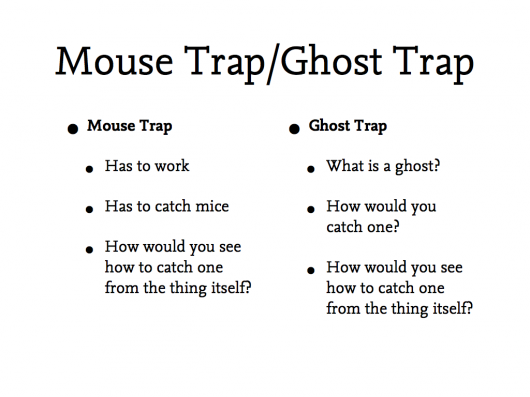 We'd asked the group to think about their favourite traps overnight, and come back with a drawing.
My favourite I think was this diagram of the boulder trap in Raiders of the Lost Ark.
So much peril encapsulated in a stick figure!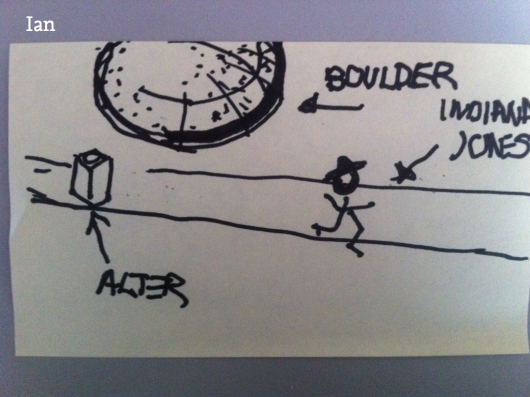 The day saw the group tangle with the realities of catching mice, and then swap to the more symbolic, reality-shaping nature of designing a ghost-trap.
Some favourites – from many – include…
Jill's self-composting mouse-trap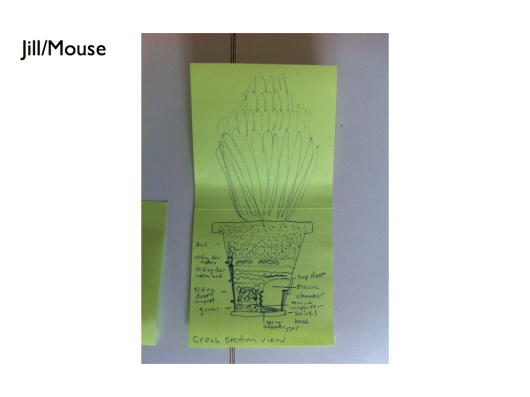 Rafa's CCTV gargoyle ghost-trap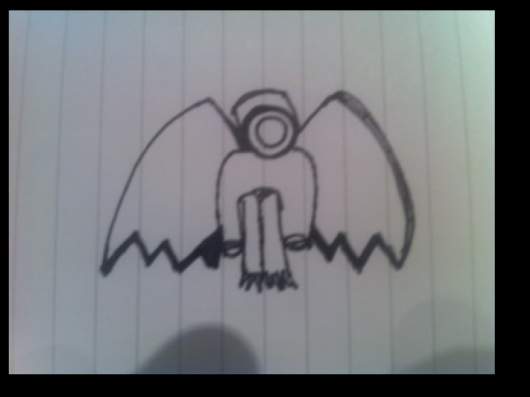 Peter's ghost-traps, including the awesome 'Dark Sucker', which we hope he builds…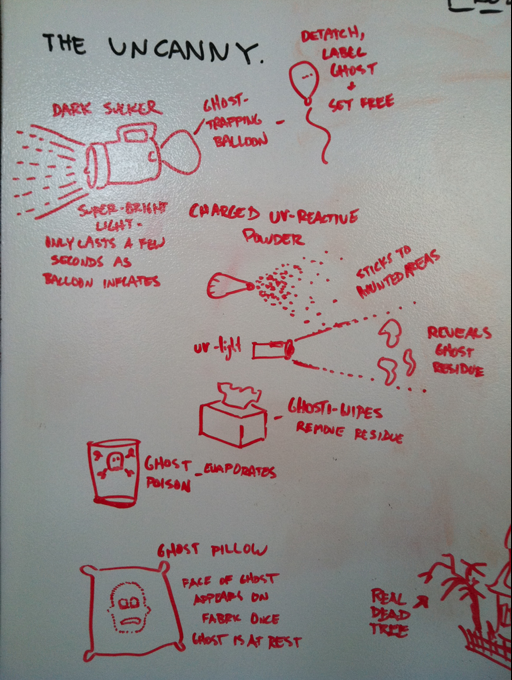 And… Nora's Black Cat/White-Cat ghost-trap service

Fantastic fun, and everyone produced really excellent, surprising stuff.
Thanks again to Liz Danzico, Qing Qing Chen and, of course, the group who attended the workshop and threw themselves into it so fully in the NYC heat…
Finally – I had great fun one of the afternoons taking photos of the group with an iPhone and a magnifying glass while they drew…