In December, we showed Mag+, a digital magazine concept produced with our friends at Bonnier.
Late January, Apple announced the iPad.
So today Popular Science, published by Bonnier and the largest science+tech magazine in the world, is launching Popular Science+ — the first magazine on the Mag+ platform, and you can get it on the iPad tomorrow. It's the April 2010 issue, it's $4.99, and you buy more issues from inside the magazine itself.
See Popular Science+ in the iTunes Store now.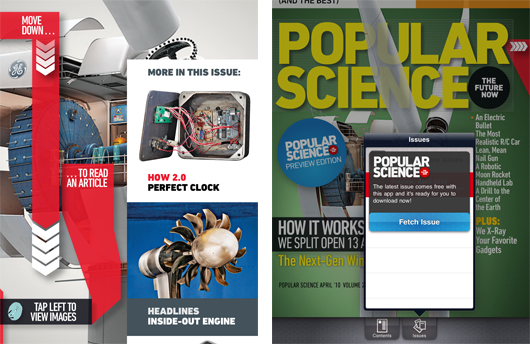 Here's Jack, speaking about the app, its background, and what we learned about art direction for magazines using Mag+.
Articles are arranged side by side. You swipe left and right to go between them. For big pictures, it's fun to hold your finger between two pages, holding and moving to pan around.
You swipe down to read. Tap left to see the pictures, tap right to read again. These two modes of the reading experience are about browsing and drinking in the magazine, versus close reading.
Pull the drawer up with two fingers to see the table of contents and your other issues. Swipe right and left with two fingers to zip across pages to the next section. Dog-ear a page by turning down the top-right corner.
There's a store in the magazine. When a new issue comes out, you purchase it right there.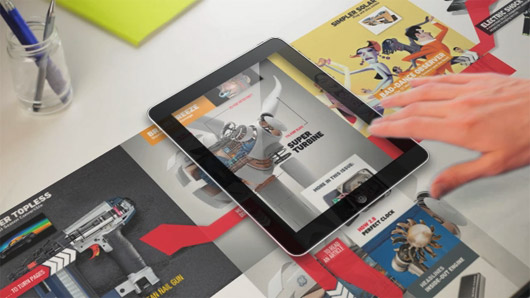 Editorial
Working with the Popular Science team and their editorial has been wonderful, and we've been working together to re-imagine the form of magazines. Art direction for print is so much about composition. There are a 1,000 tiny tweaks to tune a page to get it to really sing. But what does layout mean when readers can make the text disappear, when the images move across one another, and the page itself changes shape as the iPad rotates?
We discovered safe areas. We found little games to play with the reader, having them assemble infographics in the act of scrolling, and making pages that span multiple panes, only revealing themselves when the reader does a double-finger swipe to zoom across them.
It helps that Popular Science has great photography, a real variety of content, and an engaged and open team.
What amazes me is that you don't feel like you're using a website, or even that you're using an e-reader on a new tablet device — which, technically, is what it is. It feels like you're reading a magazine.
Apple made the first media device you can curl up with, and I think we've done it, and Popular Science, justice.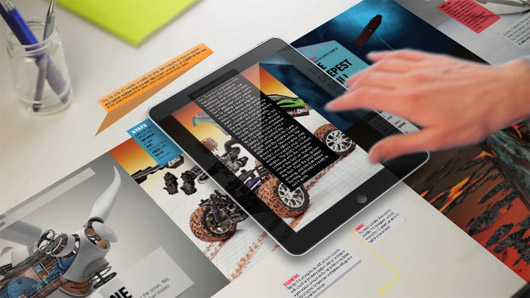 From concept to production
The story, for me, is that the design work behind the Mag+ concept video was strong enough to spin up a team to produce Popular Science+ in only two months.
Not only that, but an authoring system that understands workflow. And InDesign integration so art directors are in control, not technologists. And an e-commerce back-end capable of handling business models suitable for magazines. And a new file format, "MIB," that strikes the balance between simple enough for anyone to implement, and expressive enough to let the typography, pictures, and layout shine. And it's set up to do it all again in 30 days. And more.
It's all basic, sure. But it'll grow. We've built in ways for it to grow.
But we've always said that good design is rooted not just in doing good by the material, but by understanding the opportunities in the networks of organisations and people too.
A digital magazine is great, immersive content on the screen. But behind those pixels are creative processes and commercial systems that also have to come together.
Inventing something, be it a toy or new media, always means assembling networks such as these. And design is our approach on how to do it.
I'm pleased we were able to work with Popular Science and Bonnier, to get to a chance to do this, and to bring something new into the world.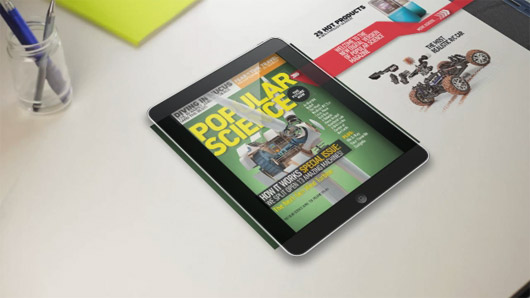 Thanks!
Thank you to the BERG team for sterling work on El Morro these last two months, especially the core team who have sunk so much into this: Campbell Orme, James Darling, Lei Bramley, Nick Ludlam and Timo Arnall. Also Jack Schulze, Matt Jones, Phil Gyford, Tom Armitage, and Tom Taylor.
Thanks to the Popular Science team, Mike Haney and Sam Syed in particular, Mark Poulalion and his team from Bonnier, and of course Bonnier R&D and Sara Öhrvall, the grand assembler!
It's a pleasure and a privilege to work with each and every one of you.
See also…