There have been several things that have come across my radar via the Twittersphere this week that I've found charming and delightful. I've not come up with a coherent narrative for them, though, so I'm just going to list them a la a links post. Bonus points if you can connect them in the comments!
Via my very handicrafty friend @thatdeangirl I discovered The High Church of Gaming. Here are some beautiful kneeling pads which incorporate imagery from Super Mario, Zelda and Sonic the Hedgehog and bring together two things that almost never go together: religion and video gaming.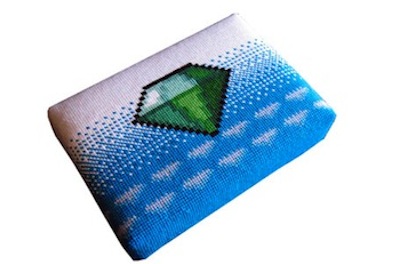 Another friend @dankauf tweeted a link to the gorgeous and fascinating project / live show The Ice Book. It uses light and projection to tell a story on a pop-up book:
The Ice Book (HD) from Davy and Kristin McGuire on Vimeo.
According to the McGuires, "It tells the story of a mysterious princess who lures a boy into her magical world to warm her heart of ice. It is made from sheets of paper and light, designed to give a live audience an intimate and immersive experience of film, theatre, dance, mime and animation."
And finally, via @iainarcher, Nano Guitar! Created in 2003 by scientists at Cornell University, it's 10 microns long and has six strings that are played by targeting them with miniature lasers creating one of the highest sounds every recorded. And really, why not?