A long while without links: I blame December deadlines and moving studio. A shame, given we'd been collecting a whole series of links on the studio mailing list; time to rectify that by sharing them with you, starting with a selection of articles connected by the theme of drawing.
Hand grid with guide grid by atduskgreg on Flickr
Melt Triptych – Center Portrait from Peter Esveld on Vimeo.
Drawing Machines 2009 – the blog that kicked off the idea for this post, which we found after they linked to our little Inductive Truck prototype.
Accompanying a Fall 2009 class at ITP, the blog is full of links to all sorts of automated and programattic drawing devices, as well as examples of final work. I particularly liked Greg Borenstein's post on drawing grids distorted by gravity, in an attempt to make visible the weight of objects, and enjoyed Peter Esveld's Melt Triptych (also above) a lot.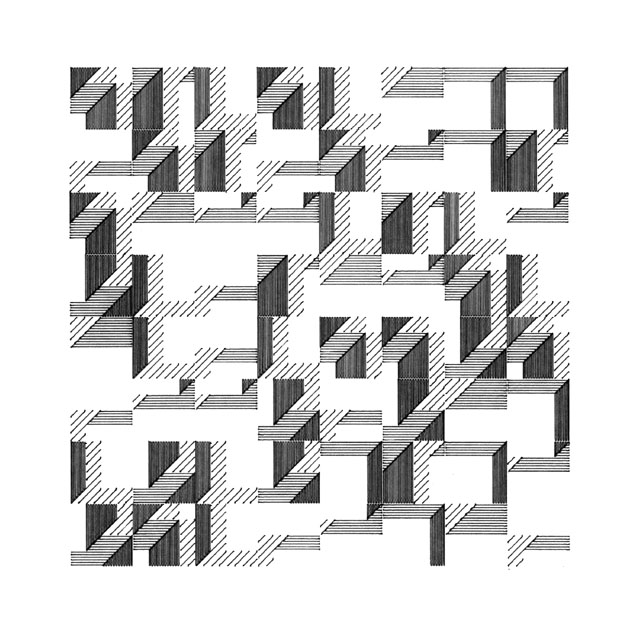 Edward Zajec ram2/9 plotter drawing 1969
A lovely selection of plotter drawings from the 1960s – a very early example of artwork created entirely digitally, with a surprising variety of styles on display.
And how about this: the Great Diagrams in Anthropology, Linguistics, & Social Theory pool over on Flickr, full of diagrams of linguistic constructions, social spaces, Polynesian tattoos, and suchlike. Exciting.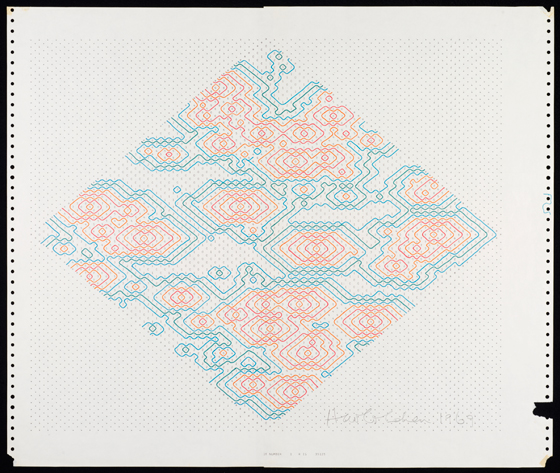 Untitled, Computer print-out with coloured pen and ink, Harold Cohen, 1969, from the V&A collection
And we – we being BERG – can't talk about computer art without reference to Cybernetic Serendipity, the 1968 exhibition of computer art originally shown at the ICA. There's a nice overview of it – and its importance – at the ICA website, and also in these original descriptions from its curator, Jasia Reichardt.
The Harold Cohen above is a lovely sample of it – its gridded pattern of cursive loops remind me a little of the distortion patterns Matt was playing with a while back.