This is the Bayer Didget: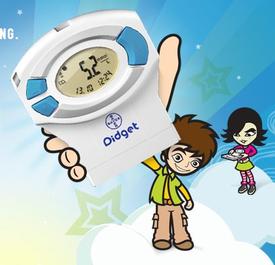 Didget is a blood sugar monitor that plugs into a Nintendo DS, and interfaces with its own game cartridge. Bayer explain that it 'converts test results into reward points that children can use to unlock new levels and buy in-game items'. Cheap, too, at only £30 (plus the cost of a DS, obviously), but what a great idea: turning a serious health issue into both visualized data and fun. And it fits a much more pressing need than Nintendo's own Vitality Sensor pulse monitor: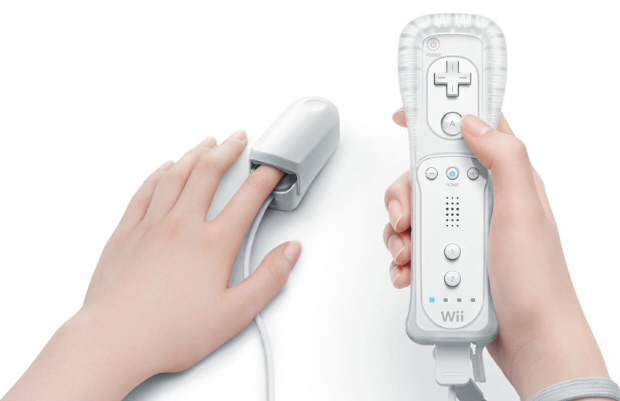 Still, other companies are also experimenting with toys and games built out of simple feedback loops driven by peripherals. Uncle Milton Industries have the Force Trainer (with obligatory Star Wars tie-in branding):
which "monitors brainwave activity and allows [the player] to control a small ball that moves through a 10 inch training tower using focus and concentration". To clarify: you don't think about moving the ball; the ball moves based on your brainwave patterns, and so the trick is to learn how to control the output of your brain at a very general level. The effect is still close enough to magic, though, for the purposes of entertainment.
Mattel are also getting in on the neurofeedback toys with Mind Flex:
which Engadget explains as requiring 'players to concentrate really hard in order to power a fan that'll float a ball through the hoops'. Perhaps underwhelming as a game or toy, then, but the novelty factor of the neurofeedback loop has got to be worth something. Mattel reckon it's worth $80.
More fun in the world with your DS: Tecmo's Treasure World turns every wifi hotspot in the world, locked or otherwise, into a potential source of treasure – and you can hunt for treasure with your DS closed. And, on top of that, there's a remarkably comprehensive web integration. Brandon Boyer at Offworld has got an ultra-detailed writeup, but if you're short on time, the trailer video should do:
And finally, some text design from videogames and movies.
A screengrab from the forthcoming Splinter Cell: Conviction, which turns the mission objectives into text overlaying the world for only the player to see. I take a quick historical tour of the idiom of representations of text within 3D space over at infovore.org.