We've all been so busy that Week 419 has been lost to history. No one knows what happened then or if it even existed, much like the money in those similarly numbered scams.
It's now week 420.
Mark is getting addicted to the Cryptic Crossword as well as doing some more wrangling for Sinawava, which Joe and Laurence are doing a lot of drawing and other work for.
Kari has been tackling ZenDesk enquiries, sending paper off to hungry LPs and a multitude of other things.
Matt Webb is as always having meetings and also in Cambridge today for an IoT meetup.
Jack is also in Cambridge as well as doing some fun looking R&D with Joe and Luckybite crew.
Phil is cranking out more publications including one for Eventbrite and making it easy for others to make charts on LP.
Helen has been busy with fulfilment for the 2nd run of LPs and dealing with end of year.
Neil is hard at work assembling the remaining #FLOCKs as pictured here: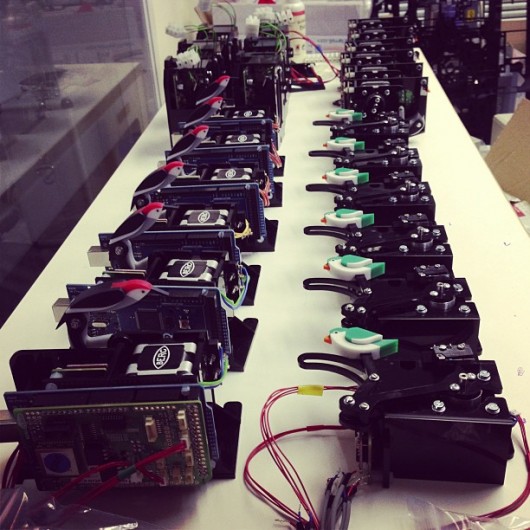 Andy has been in Italy at Fabrica for the first Sandbox workshop and learning to make Limoncello which I hope makes it back here.
I've been getting the supporting web side of the BERG Cloud developer tools to a point where they can be used in the Sandbox.
Nick has been testing the tools out by building a small project as well as spending some time on some iOS app work.
Alice is continuing to improve on Remote and LP deliveries both visibly and in many hidden but important details.
Fraser is blogging and talking and communicating in various mediums.
And finally Alex and Denise have decided to become developers as well as designers and are doing some work with Processing, Alex has also found time to make a couple of very fun publications for children.