We published SVK two weeks ago today — it sold out the whole run of 3,500 copies in 48 hours (more copies went to advertisers and contributors). We'll shortly print our second run! A quick recap for newcomers: SVK is a comic by Warren Ellis and Matt Brooker, published by us, with a twist that part of the story is printed in invisible ink, readable only with a special object that you get when you buy it. SVK is available only from BERG, and we've set up an online shop, etc, to make that happen.
But we've had an embarrassing trip-up: in the last two weeks, we've replaced 9% of our customers' SVK torches which were dead on arrival or not quite working.
9% is way too many by any standards. It's disappointing and annoying for our readers.
It's also embarrassing. Sorry Warren and Matt, and sorry people who bought SVK.
Let me tell you what happened, what we're doing, and what we're going to do for the reprint.
Background
As it says on the product page, SVK is an experimental publication. We were trying loads of things for our first time, from publishing to shipping, and from sourcing objects from China to customer service.
So before we went on sale, we brainstormed 20 problems that might occur, and what we'd do about each. Personally I though we'd have problems with postal systems — last time, when we sold maps, we had a lot of post go missing. This time we were sure we were organised, and even if things did go wrong then we had made sure we could respond promptly.
Out of all the possible problems, once SVK started arriving at people's homes, we quickly found out that some of the torches were broken. We had planned for there being some kind of hiccough, and it looked like peaking at 2-3% initially. And okay, 2-3% is a problem, but a just-about acceptable problem if we respond fast, and it's understandable to have some kind of glitch or another. We had already decided to ship free replacement torches out to anyone who wasn't totally satisfied, so we started doing that.
But if you look at the @berglondon Twitter stream you'll see the volume is much higher than 2-3% — we've redirected a large number of people to our customer service email address. It grew gradually to 9% of customers. What happened?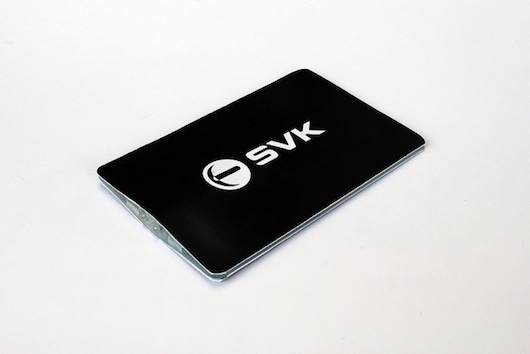 Where the broken torches come from
The torches come to us in cartons of 100. We've now checked carefully through 3 cartons, and the numbers are these:
Even before shipping, 2% are totally dead. 2% have only 1 of the 2 LEDs working. A further 2-3% not broken but unsatisfactory in other ways: the light flickers or is a little weak, or the power button is too easy to click. These are ones that would clearly die in transit.
That makes 6-7%. These should have been rejected before they left our hands, and we knew that not all the torches would work straight from the factory: There was in fact a QA (quality assurance) step planned during package assembly, which would have caught these, but it appears that this was lost. It shouldn't have been missed, and it's our fault for not ensuring it happened.
This leaves 2-3% of torches unaccountably broken on arrival, and we believe it's due to the battery discharging in transit — some of the torches have looser power button mechanisms than others, and these might activate under a heavy weight. Or maybe all the torches are susceptible to that, and it's only a small fraction of packages that have the necessary pressure applied while in the post. We hadn't anticipated this.
We didn't believe broken torches would be a problem because our initial checks hadn't revealed any torches that were dead on arrival, and the packaging appeared to be fine. It turns out we weren't thorough enough with our checks.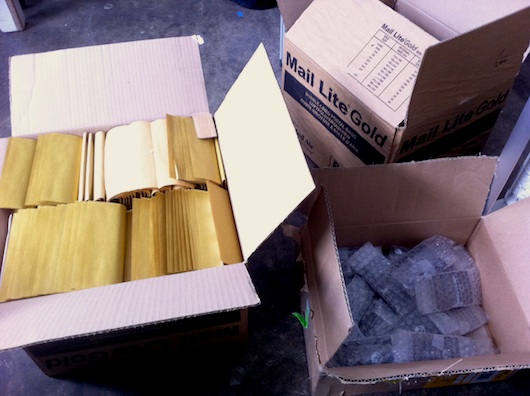 What we're doing
First, anybody with a broken torch should contact shop@berglondon.com and we'll ship a replacement, free, ASAP. We're monitoring Twitter to let customers know there too. Replacement torches are checked before packaging, and wrapped in bubble wrap. That's a picture of the replacements being packaged, above.
Second, for the reprint:
We're going to be stricter on the QA during packaging, and to ensure it takes place, we'll ask to see rejected torches (we're not doing the packaging in the studio). If there aren't 6% rejected, we know QA has failed and we won't ship that batch.
We've also sourced bubble wrap envelopes to put the torches in, in addition to the regular packaging. This appears to deal with torches that are discharged in transit.
And we'll continue with the free replacements for torches with one or both LEDs dead on arrival. (Update 6 August: it's been a month since the initial sale, and there are very few people getting in contact now. So we'll close this offer at the end of the week — the 11th. We're currently looking at other ways to distribute replacement torches.)
Last, I'm writing this blog post to explain what happened, and how we're responding. The best thing is to be open about it.
Finally
Thanks here to Kari and Simon, who have been doing a sterling job manning customer service, talking to people over email, and packaging and dispatching new torches. And thanks to Denise and Matt J who have been super responsive on Twitter.
In terms of the experimental nature of this project, we've done a number of things right, and we've got a new appreciation the important of and how to do quality assurance. This is good team knowledge to have for future projects, but I didn't want to acquire it like this.
The whole team wishes this torch problem hadn't happened, and we're all working to make up for it, and to fix it for the next run.