This Friday: a collection of links from the studio mailing-list, all about light painting.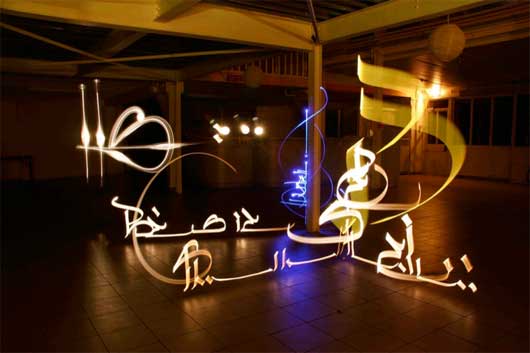 Image: Poésie by kaalam on Flickr
Julian Breton's work as Kaalam has already featured on the blog but it's too beautiful not to include again in today's collection of links. Influenced by Arabic script, he paints delicate, abstract calligraphy into his photographs as they are being exposed. There's more on his Flickr profile and his website.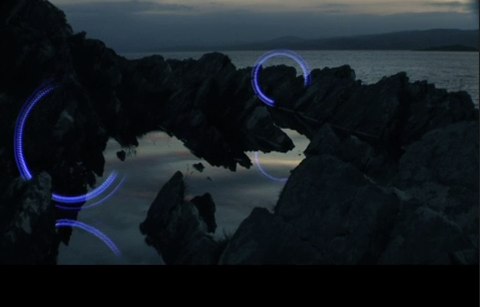 Sophie Clements' stunning film Evensong films a series of moving light-patterns in Argyll. Mounted on rigs such as spinning wheels, there's a magic in the way the lights interact with their environment: dancing around poles, reflecting in pools. It's striking to see light painting such as this in moving, rather than still images.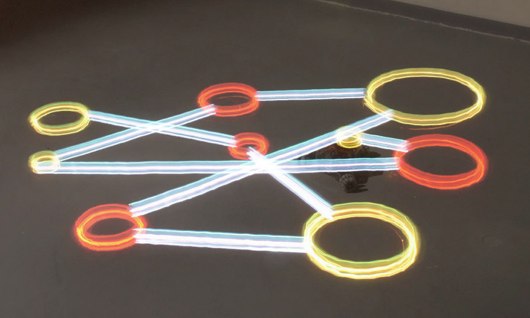 Nils Völker has been buildling a robot for created coloured light drawings. Once the pattern is programmed into it, it trundles around the floor, turning its light on and off as necessary, tracing the pattern whilst a camera takes a long exposure. Whilst not as pretty as Kaalam's work, there's something interesting in automating this kind of work. It's also strange to see this machine at work, as this video testifies: whilst it works, you can't really see what it's doing. It only makes sense when viewed as a long-exposure.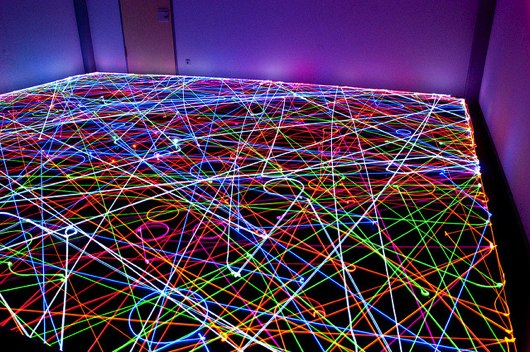 Photo: IBR Roomba Swarm in the Dark IV by IBRoomba
Völker's robot drew the patterns it was told to. But light painting techniques can also reveal the behaviours of smarter robots. The above picture comes from the Roomba Art group on Flickr – where people upload long exposures of their automated vacuum cleaners having attached lights to them. This image shows seven Roombas – each with a different colour LED – working all at once; you can see their starting points in the middle of the room, and the odd collision. It's a very pretty remnant of robots at work. The rest of the pool is great, too.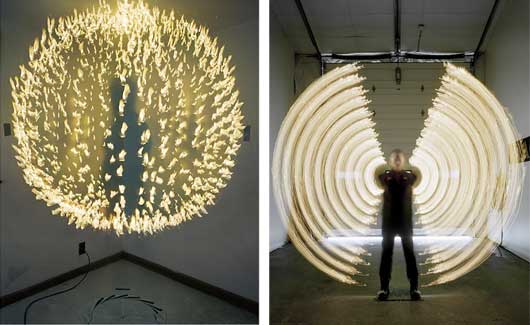 Photos: Light Sphere with Right Arm and Cigarette Lighter and Arcs with Arms and Candles by Caleb Charland
Caleb Charland's images take a variety of approaches to light painting. Some are multiple exposures; some are long-duration, single exposures. Some are very much about the artist's presence in the image (albeit in ghostly ways); in others, the artist is largely absent. They're all lovely, though; I particular like his use of naked flames in his images.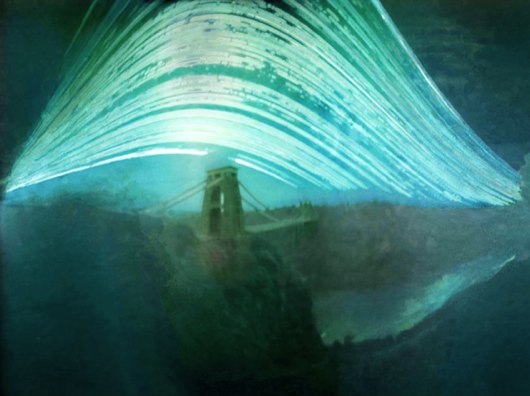 Justin Quinnell's six-month exposure of the Clifton Suspension Bridge could be described as light painting using the sun. The duration of the exposure allows you to see the sun's transit shift with the seasons. Justin has more long-exposure pinhole photography at his website.