More chaff and some wheat from our studio mailing list. Tom's away on holiday in welsh Wales, so this maybe a little more haphazard than his usual excellent curation.
We found out from David Weinburger that "The 'points' by which we measure fonts were adopted in the 18th century. They are 144th of the length of the foot of the king of France at that time." – which prompted the response in the studio of "Hang on, doesn't that mean the French king had feet only 2 inches long? Maybe he was a baby."
The awesome Stamen's new prettymaps.stamen.com by the awesome Aaron Straup-Cope is pretty awesome.

Nick introduced us to a couple of iPhone games which Timo immediately got addicted to.
A gallery of spacesuit-helmet reflections

Nick sent the studio this link to the plans that Audi have to turn their cars into mobile wifi hotspots. Maybe he's dropping hints for a corporate car. Conversely, we're wondering if we can do anything in the parking spots outside the studio for Park(ing) Day which is just 6 weeks away.
Here's Dan Hill writing about what Arup Australia did for Park(ing) Day back in 2008.
Not sure we'll be able to get a chicken in ours.
Talking of cities – I've been loving Tim Carmody of BERG-favourites Snarkmarket standing in for Jason at Kottke.org. His post on "Cities as Hypertext" is worth a read.
"whenever I read anything about the web rewiring our brains, foretelling immanent disaster, I've always thought, geez, people — we live in cities! Our species has evolved to survive in every climate and environment on dry land. Our brains can handle it!
Yep.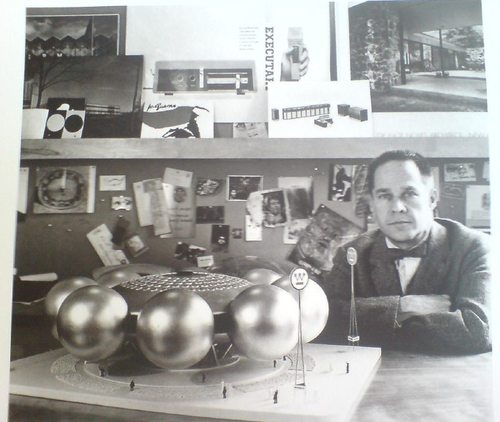 Greg Allen on the design of the proposed 1964 Westinghouse World's Fair Pavilion, the comedy-subtitling of which I have been forbidden from using on this blog by my more mature colleagues.
Scott Berkun's lessons from Wave and Kin include these words to live by:
Google Wave was weird, but cheap. Compared to Kin, which likely involved dozens of people and man-months, Wave was likely done by a small team of people. That was their biggest cost! If you're going to have failures, even visible ones, better cheap and small, that expensive and large.
And finally…
Robotwatch! Cam pointed us to the robot that is going to explore the interior of the Pyramids, however exploration is nowhere to be found on the robot version of Maslow's hierarchy of needs…
Have a lovely weekend, and be nice to robots when you meet them.
AT-AT day afternoon from Patrick Boivin on Vimeo.