Some links from around the studio for a Friday afternoon. Firstly, a video:
Graffiti Analysis 2.0: Digital Blackbook from Evan Roth on Vimeo.
Evan Roth's "Graffiti Analysis 2.0″. Roth is trying to build a "digital blackbook" to capture graffiti tags in code. He's started with an ingenious – and straightforward – setup for motion capturing tags: a torch taped to a pen, the motion of which is tracked by a webcam. The data is all recorded in an XML dialect that Roth designed – the Graffiti Markup Language – which captures not only strokes but also rates of flow, the location of the tag, and even the orientation of the drawing tool at start; clearly, it's designed with future developments – a motion-sensing spraycan, perhaps – in mind.
But that's all by the by: I liked the video because it was simple, ingenious, and Roth's rendering of the motion data – mapping time to a Z-axis, dousing the act of tagging in particle effects – is really quite beautiful.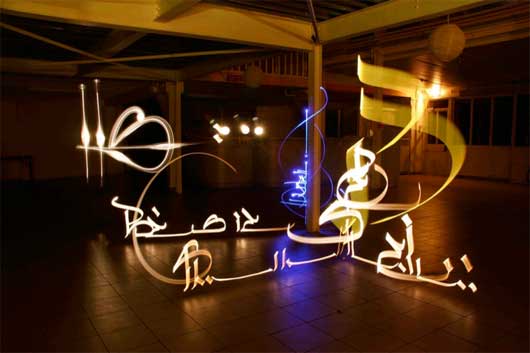 Image: Poésie by kaalam on Flickr
I showed it to Matt W, and he showed me the light paintings of Julien Breton, aka Kaalam (whose own site is here). Breton's work is influenced by Arabic script and designs, and the precision involved is remarkable – so often light-painting is vague or messy, but there's a remarkable cleanliness and precision to Breton's work. Also, as the image above demonstrates, he makes excellent use of both depth and the environment he "paints" within. If you're interested, there's a great interview with Breton here.
Image: Mont Blanc with "Peaks" by Nick Ludlum on Flickr
Nick's off skiing this week, but he posted this screengrab from his iPhone to Flickr, and it's a really effective implementation of AR. It's an app called Peaks that simply displays labels above visible mountain-tops. It's a great implementation because the objects being augmented are so big, and so far away, that the jittery display you so often get from little objects, nearby, just isn't a problem. A handful of peaks, neatly labelled, and not a ropey marker in site.
And finally: Matt B's Otamatone arrived. It's delightful. A musical toy that sounds and works much like a Stylophone: you press a contact-sensitive strip that maps to pitch, but it's the rubber mouth of the character – that adds filtering and volume just like opening and closing your own mouth – that brings the whole thing to life. You can't see someone playing with it and not laugh!
It's a product by Maywa Denki, an artist makes musical toys and sells them as products; previous musical toys include the Knockman Family, all of which are worth your time watching as much of you can on Youtube.
And if you get your own Otamatone, and practice really hard, maybe you could play with some friends: