I'm into cybernetics. Or rather: I think that the cybernetics movement of mid last century is the hidden nexus of interconnected postwar history.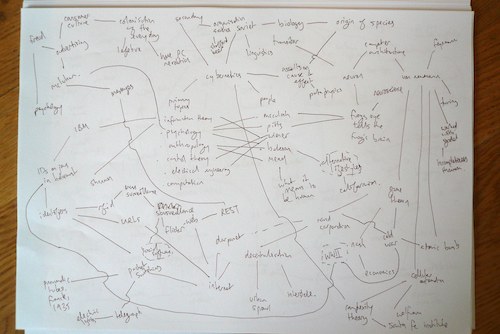 The 1946 Macy Conference is kind an aleph moment. In attendance were people intrinsically involved in computers and prosthesis (the collaboration of man and machine), modern anthropology and modern neuroscience (what it means to be human), game theory (the Cold War and the conversion of people into cogs). We can trace direct paths through counterculture and social organisation, decentralisation and the Web, and to a socialist Chilean internet. There are connections to cults, advertising, social software and games, rocketry, suburbia, complexity theory and ecology. Historical roots lie in golems and pneumatic tubes, science fiction and weaving, pataphysics and the telegraph. The language of our information society was created, often knowingly, by these people. Cybernetics is the beautiful and ugly and ambiguous heart of our information society.
I have a dozen or so books in my collection that directly speak about these era. Two that stand out are both by Steve Joshua Heims: Constructing a Social Science for Postwar America: The Cybernetics Group, 1946-1953; and John von Neumann and Norbert Wiener: From Mathematics to the Technologies of Life and Death.
What's wonderful about this history is that it's a history of people. It's all people who know people. The messy social world of this invented science that then vanishes undermines its own contention that humans can be modelled as components. It is a story that cannot be linearised, it is a hypertext history; a hyperhistory of actors and networks, only tellable through contradictory, subjective points of view. Yet there are aspects of known history that, I believe, only make sense when you see the hidden particle traces, the lives of the attendees of the Macy Conferences and who they knew.
It has been a pet project of mine, for a few years, to somehow tell this story. Many of the key participants are no longer with us. Understanding the modern world, in this time of change, is important. It should be known that common practices in our innocuous online spaces were thrashed out as military efforts. Conversely it should be known that the mindset computers were borne out of was reactionary and weird and perverse from the very outset.
Help wanted
I'd like some help assembling the research. I'm not sure precisely where it'll go – for a while I thought I'd write a book, and now I have other ideas – but what I do know is that I'd like to work with a researcher for 3-6 months to turn books, articles and references into research notes: the foundation for future work.
I have a starting set of books, and a pretty clear idea of what I need as output (one reference point is Anne Galloway's re/touch encyclopaedia). If you're the researcher I'd like to work with, you're already knowledgeable about postwar America and one or two of the topics associated with cybernetics. You're good with book research, following leads like a hungry investigative journalist, and diligent with references. You're probably in research academia in an allied field, and you may have your own use for this work. This is a part-time job, and it's maybe another small piece of funding for you. You'll be a self starter, and glory in interconnections and libraries both.
Why am I talking about this in public? Well, I don't know the right researcher. Is this you, or is it someone you know? It's speculative work – just following my nose – and I can put about £3,000-5,000 aside. If you'd like to have a chat, please do get in touch.