Since the comments on the Experience Hooks post were on unboxing, I thought I'd post about my current favourite packaging.
The following video shows a CD case then a cigarette packet, both opening in an unusual way. You also get to see my neck, and my Norwegian fishing jumper.
The CD, Peeping Tom (collaborations with Mike Patton), is just very cool. The action is unexpected, and the way the keyhole image changes is engaging. It's the kind of thing you show your friends.
I'm more enamoured with the Benson & Hedges Silver Slide special edition pack. (I don't smoke–I found this, empty, on a table in a pub.)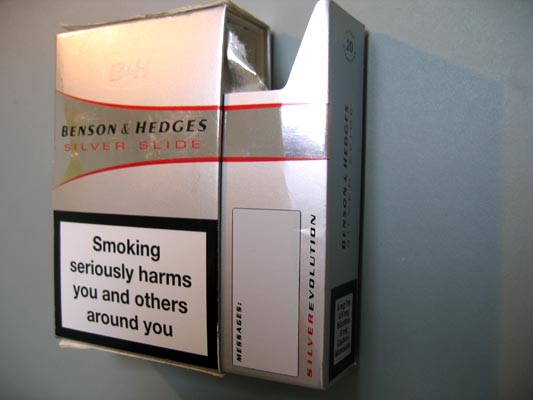 The pack understands that a large component of smoking cigarettes is gifting them to other people. There's a lot of reciprocity wrapped up in that act: It can be used to develop an aura of generosity, or cashed-in immediately to get a hard-won conversation. See also: Teens and text messages in Alex Taylor's paper The gift of the gab [PDF].
Silver Slide develops a story around that potent experience hook. Offering the cigarette, overlooked usually but now prominent because of novelty, becomes part of the experience. Really, you don't need any remaining cigarettes.
My favourite touch: When you slide open the pack, there's a space to write messages on the inner draw. That's exactly what social smoking, especially with strangers, is about.
Taking something much more everyday, I'm also a fan of the squeezable Heinz Ketchup bottle (scroll down) launched a few years ago. Once upon a time, the ketchup bottle was a vehicle for carrying the product–that is, the sauce. Although the glass bottle was used in adverts as a feature, it was pretty tedious to use. The sauce came out slowly, and the rim of the bottle would get grubby. It was hard to clean. The move to a squeezy bottle recognised that the experience of consuming the ketchup was part of the product itself.
The squeezy bottle allows for quick and accurate application of sauce, and – the best feature – the bottle-top has no rim. It has a large, flat top, slightly curved. It's extremely easy to clean, with a fluid wipe-round action. Because it's easy, it's done more often, and my overall experience of living with ketchup has become considerably less grubby. I'm sure grubbiness wasn't something with which Heinz wanted to be associated.
A previously unpleasant uncatered-for activity intrinsic to the delivery of ketchup has become part of the design. Who knows whether ease-of-cleaning was a factor in the squeezy bottle shift… I'd like to think it was.