One of the trends Jack and I discuss a lot is the internet sensibility hitting the world of plastic products. What happens when stuff is conceived of not as tools, but as participants in our own creative, social, connected lives?
I was talking about this with Nat the other week and spinning up concrete examples. One was what this new wave of product would mean to a fairly traditional technology device, like the printer. So here's my first off-the-top-of-my-head product idea:
If my desktop printer understood the lessons of social software and Web 2.0, it wouldn't be attached just to my computer or local network. It'd be accessible by my closest family and friends, too, regardless of where they lived. These people are my primary network, the folks for whom I'd put my neck on the line, and of course I'd let them use my paper and toner, just as I'd happily leave them with my house keys.
But what would this remote printing be used for?
My family would print me photos–currently the 3 of us have a shared folder just for pictures, because it's easy to use and totally private, but an image landing in a folder doesn't mirror its social importance to me.
My mum, instead of scanning newspaper clippings and emailing them to me (happily, her scanner has a single button that does that whole job), she would print them straight into my house.
My close friends would send me sketches, or print out long articles that I really must read. Yes, we can do this by email–but everyone in the world can send me articles by email. I have a much closer relationship with these people, so why doesn't my computer support that?
It's the desktop printer meets social software meets the fax machine, but in everyday life rather than the office. The printer is no longer a printer, it's my social letterbox.
Jack drew what it would look like: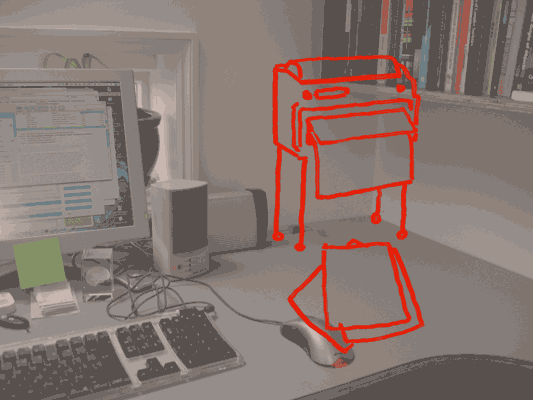 The social letterbox printer sits on the wall so that when it's finished printing, the paper falls to the desk with a satisfying thump. It prints slowly, because it's often going to be working when I'm not there and there's no hurry. The paper is probably cheap, perhaps thermal paper.
This is because the new social interactions around the printer now influence its form.
And now we have this letterbox, what else would we see? Perhaps magazines, subscribed to like podcasts, sent as PDFs, that my computer picks up and prints overnight, ready for me to read in the morning–just like iTunes downloading shows for me to listen to on my iPod. I'd love a zine that collated the best of my friend's essays in their blogs. We've got the technology, so why not? We might send sketches – napkin doodles – or hand-written notes more often, knowing they could end up pinned to a wall. For some people, the social letterbox might be the only way they like to receive messages and mails from their family.
All of this points to a very different product from the present-day desktop printer. It could be done today–printer manufactures could bundle social letterbox software with their devices, just as digital camera manufacturers bundle photo management applications. But I think that'd be missing the point: the social interactions change the physical device itself.
As well as having a fast laser printer on the floor, I'd have a smaller, cheaper, slower social letterbox on my desk. I'd buy two printers! And we've doubled the size of the printer market, at a stroke.