We've had a bunch of extremely generous links in the past couple of weeks… just as we submerged into deadline mode.
Fimoculous picked out this blog, Pulse Laser, as one of the best blogs of 2006 that you (maybe) aren't reading. Wow! I've had much teasing for being described as "the kind of nerd that all nerds aspire to be." The other blogs in the list are brilliant; it's extremely flattering to be placed in that company. Thank you!
And if that weren't enough, we're also in a list of Best Interaction Design Blogs 2006. Staggering company again, and thank you. Not bad for a blog that started only at the end of September.
Modesty, once thrown away, it difficult to re-establish. So I'll continue.
There have also been a number of new readers coming from O'Reilly Radar on the 3C products essay series, and also from a great collection of lessons from animation (on 37signals) which links into one of those same essays.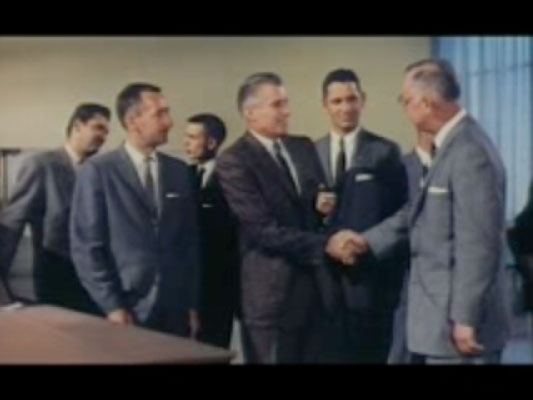 Hello!
What all of that means is there have been a lot of people visiting, with nothing fresh to read.
So, if you're new here, start with our introductory post.
Then you might also enjoy our most popular posts (our top content to-date as listed by Google Analytics):
The image above, by the way, is from American Look (Part III) (1958). It's a Chevrolet-sponsored film promoting the industry and style of the 1950; part III focuses on the designers themselves. This particular screen grab falls in the segment described:
15:15:20:00 MS Executives point to a model of car which is unveiled; smile and nod approvingly; senior executive shakes hand of subordinate, pats other on back
It somehow seems appropriate. The whole movie is recommended.