Andy Huntington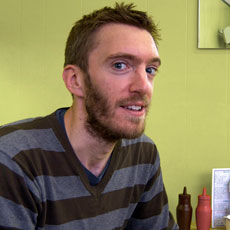 Photo by Paul Mison.
Andy builds things in software and hardware. He began working in sound design and composition following a training in music, moving into interaction design as a consultant to the Interactive Dept. at Fabrica, Benetton's Communication Research Centre near Venice in 2002.
He graduated with an MA in Interaction Design from the RCA in 2005 and subsequently has created software and hardware exhibits for The Science Museum in London and prototypes for clients such as the BBC, Nokia and Orange.
Since 2005 he has co-directed and developed filmit for the Helen Hamlyn Trust's Open Futures initiative which provides a simple platform and framework for video making and sharing in primary schools in the UK and India.
He has exhibited and spoken internationally, likes cycling and continues to make music toys.
Email: andy@andyhuntington.co.uk
Twitter: @andy_huntington
Linkedin: https://www.linkedin.com/in/andyhuntington
Site: http://andyhuntington.co.uk