Schooloscope turns official government data about schools into easy-to-read English, and smiling faces.
Update (May 2012, SP): Schooloscope has now closed. If you wish to get in touch with us about the project drop us a line at info@berglondon.com
The aim is to show clearly and simply what each school feels like. Are the kids happy there? Is the teaching good? If you were thinking of sending your child to this school, what would the parents there tell you about it?
A school is more than just its league table position; it's a community of people. The site is trying to reflect that, using informative, friendly graphics that summarise each school's mood — and providing a way in to understanding the dry reports and statistics that more usually makes up government data.
Visit Schooloscope and see how BERG has given a human face to government statistics.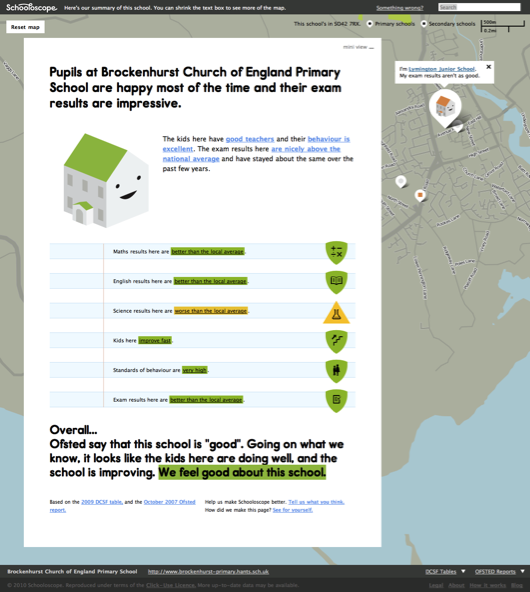 Background
Schooloscope was originally "Ashdown," a project that exemplified a stage we call material exploration. Material exploration is a process of thinking through making. Designers and technologists work simultaneously with the material at hand – in this case, spreadsheets and reports – building prototypes and visualisations to understand more directly how to explain simply the meaning behind the data. Often it's only once designers have the tools to explore and combine the data on their own that the final design work can begin.
At the beginning of 2010, Schooloscope began to emerge. From a pretty-but-heavy site concentrating on information design, we starting finding a website focused on building familiarity with the data through natural language and friendliness.
Schooloscope is now a work-in-progress, responding to feedback from users, and acting as a platform for experimentation with almost incidental forms of user engagement with complex information systems.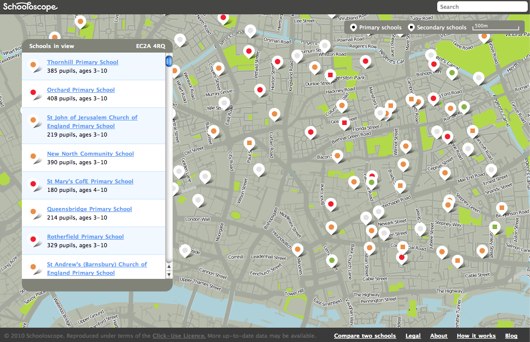 Funding and data sources
Schooloscope is funded by 4iP, Channel 4's venture division funding public service digital media. It was designed and created by BERG. Data sources are Ofsted inspection reports, Department of Education tables, and Edubase school metadata.