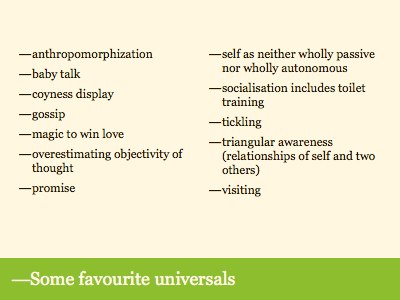 ...and started to realise that, for every single one, I would have an idea about something to build.
I like that baby talk is universal. It's reassuring to know that we all overestimate the objectivity of our thought.
We all make promises. We all go visiting.
I like that everyone has the concept of tickling.
And it seems that all human cultures see the self as 'neither wholly passive nor wholly autonomous.' Everyone but some technologists and designers it seems.
Goodness! I was very stuck.
So I did what usually do when I'm stuck, and I consulted the I Ching, the, uh, Chinese oracle system, for guidance.