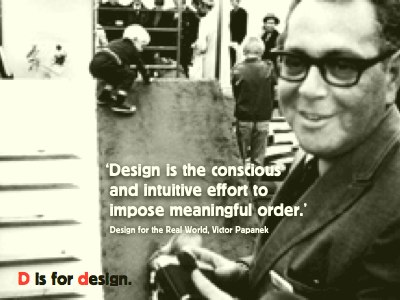 Image: Portrait accompanying interview with Victor Papanek.
I usually resist definitions of things. But…
"Design is the conscious and intuitive effort to impose meaningful order."
Not bad! I can think of 7 definitions of what a designer is, and this does okay for most of them.
I like the word 'conscious' because it can be reflexive. I don't hold with the idea that anyone who imposes order is a designer—I think it's important that you're aware you're doing a-thing-called-design when you're doing design. It keeps designers humble, because it's a reminder that there are many other valid ways of finding and communicating order.
Intuitive… I like design as a practice because it includes intuition in the process. I will offer a number of dogmatic phrases today—you must ignore them all. Design does not need to be logical and your product does not need to be derived. Showing your working will not get you a better mark. What matters in design is the stuff.
Meaningful is also a good word. Let's come back to that.
And order, hey. Order from what? What is the raw material of design?
[This is a digression into a work in progress, but I've been keeping a list of different senses of 'designer.' So far I have 6 types:
where the designer specialises in a particular material or object: graphic design, book design, furniture design
where the material is metaphorical so design is an approach: service design, interaction design, experience design
consultancy, where "designerly thinking" is a way of approaching problems in product, marketing, brand, organisational change, etc in a holistic and intuitive but also measured way
designers who manage, giving direction and explaining but not working on the material
designers who create "design objects," which are more like art (I believe that this kind of design is the true modern art. Art has always been commercial. Mass manufacture and retail are now just parts of the canvas)
designers because of job role distinction, eg sitting in-between architects and engineers, doing technical drawing and making decisions
Then there's a seventh, to cater for people who believe that anyone who does design (in addition to performing design) is a designer.]