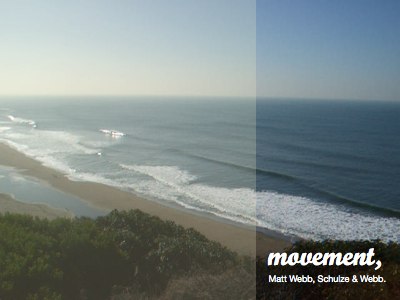 [This presentation, Movement, was delivered as the closing keynote to Web Directions North 2008.]
Hello.
I'm Matt Webb.
It's been a wonderful couple of days. My only regret is that I couldn't see talks in both rooms—I've gone to as many sessions as possible and every one has been great. Actually, I feel somewhat fraudulent standing up here, since my focus in recent years has not been building for the Web except incidentally.
I'm feeling this fraudulence all the more because I'm not even a designer. I am one of two principals of a design studio in London, called Schulze & Webb. The other principal, Jack Schulze – you can see where we got the name – is a designer. But the more I work with designers who have been through design school – designers who have been trained to have a particular way of thinking – the more I know I'm not one.
Now this mean I have to fake being a designer quite a lot, especially in-front of clients, and figure out how to articulate approaches that designers often take for granted. I have to constantly make myself idea scaffolding.
Fortunately what I do have is a background in science, so I'm good at watching, hypothesising, and trying stuff out. That helps a lot.
It's some of that idea scaffolding I want to talk about today, a particular way of thinking about the Web. And what that way of thinking is going to lead to is a proof of concept application, and a design method of how to put it all into practice.
First I thought I'd show you one project I am doing, so you know a bit more about where I'm coming from.