Ringlight is a camera attachment for illuminating close-up objects. It consists of an array of ultra-bright white LEDs, powered by a 5V battery pack, on a laser-cut plastic frame.
The ring of LEDs closest to the lens are all angled straight forward; however, unlike a ringflash, the other LEDs in the array are all angled inwards such that they converge at a point within the close-focus distance of this particular camera lens. The laser-cutting process made this arrangement relatively uncomplicated to achieve.
Ringlight is very much a one-off. It is designed to mount a single lens: the 18-55mm zoom that Schulze has on his camera. The frame is attached to the camera by means of a screw-on clear filter.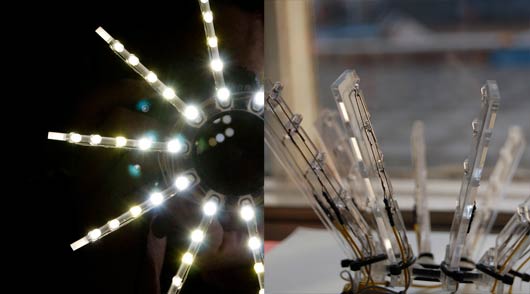 The LEDs are constantly illuminated when Ringlight is operated. Because of this, the camera can meter the scene correctly through the lens (TTL) without any complex electronics, and, because the lights are targeting a particular focal point, it is that point that exposure will be weighted towards.
Because of the tight focus of the LEDs, and their relatively short range, the effect on images is striking: the foreground is cool in tone and lit with hard, directional light; the background appears much warmer, even though it is often darker in exposure. There are two distinct colour temperatures in the same image – unlike in images produced by bare flashguns, where the flash saturates the entire image. Such images draw the eye to the object illuminated by Ringlight's light.