Here & There is a project by BERG exploring speculative projections of dense cities. These maps of Manhattan look uptown from 3rd and 7th, and downtown from 3rd and 35th. They're intended to be seen at those same places, putting the viewer simultaneously above the city and in it where she stands, both looking down and looking forward.
(The map deserves to be examined at full scale. Prints from a limited run are available for purchase.)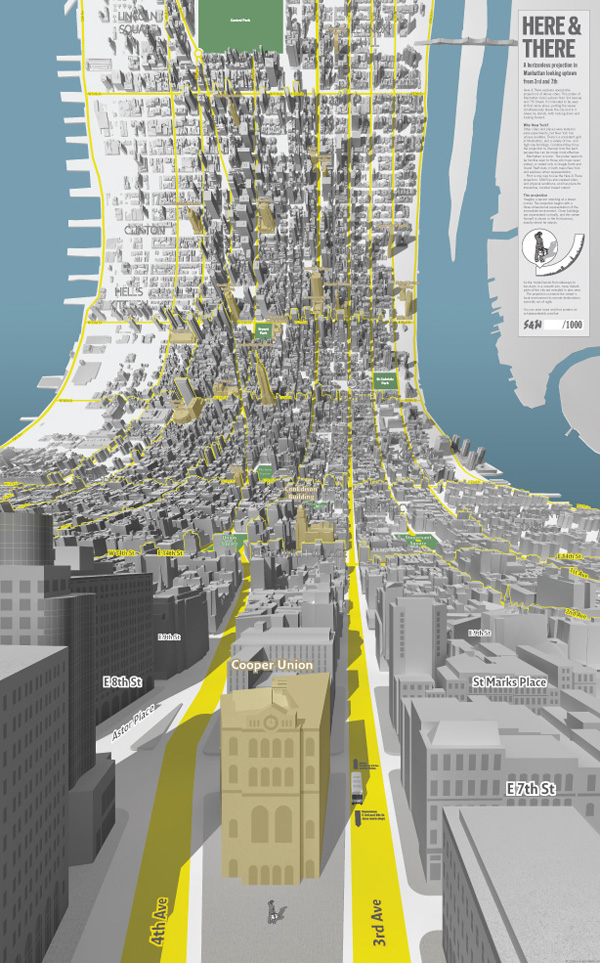 Landmarks are in gold. Note the figure standing outside Cooper Union. You'll see him in the distance on the other map of the pair. Click to see Here & There looking downtown.
What's going on?
Imagine a person standing at a street corner. The projection begins with a three-dimensional representation of the immediate environment. Close buildings are represented normally, and the viewer himself is shown in the third person, exactly where she stands.
As the model bends from sideways to top-down in a smooth join, more distant parts of the city are revealed in plan view. The projection connects the viewer's local environment to remote destinations normally out of sight.
How?
Jack Schulze explains...
"First we take an electronic Manhattan. It's a patch-work of various commercial sources, where we've repaired walls that aren't drawn right and roofs that don't fit. About a tenth of the city is re-built by hand, then textured.
"The projection seen here is a combination of city manipulations in modelling software, and choosing the best lens for the simulated camera. The nearby buildings obstruct the view if you get that wrong, or the distant ones stop working as a conventional map. There's fine tuning and instinct. Let's not demo the power of 3D applications, but make a map which is both useful and optically awesome to look at.
"Annotations come after the render. You'll see that roads have to contour around buildings that would otherwise hide them. The design key is what's handiest for a person standing in this exact spot, looking at this exact poster."
Why?
Because the ability to be in a city and to see through it is a superpower, and it's how maps should work.
Read more
21 Feb. Here & There in MoMA's permanent collection — read
03 Feb. Maps and macroscopes — read
08 May. What if GPS worked like Here & There? — read
04 May. Here & There influences — read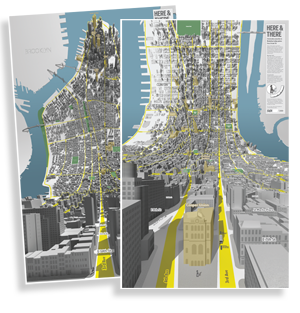 Art prints
The Here & There projections of Manhattan are to be pored over.
There are just 180 pairs left!
Each print is high resolution, and 3ft tall by 2ft wide
Individually numbered
Printed using offset litho on 170 gsm paper from sustainable sources, with a silk finish
Shipped in a rigid tube
Prints may be purchased as an uptown+downtown set for £99+P&P. Ships from 8th May.
The Here & There prints have sold out